Cherry Ripe Cheesecake Slice Recipe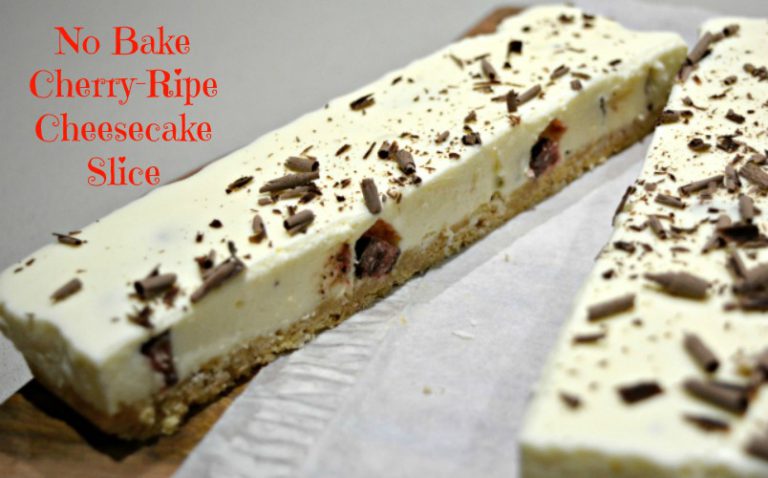 Cherry Ripe Cheesecake Slice Recipe
My Cherry Ripe obsession continues with these super easy no-bake (yeaaa) cheesecake slices. This recipe makes a nice big tray full of creamy delicious cheesecake spiked with chunks of Cherry Ripe on top of a crispy biscuit base made with some crushed Nice biscuits, butter and a bit of coconut for a bit more of that Cherry Ripe hit.
Don't you love a no-bake slice! Just some sweetened condensed milk, cream cheese, whipped cream for the filling.
A splash of lemon juice gives it that slight zing and some dissolved gelatine firms it up. They keep for days in the fridge and I love the hint of shaved chocolate on top to make them pretty.
Cherry Ripe Cheesecake Slice Recipe
Ingredients
200g Nice biscuits, crushed (plain sweet cookies)
1/3 cup desiccated coconut
125g butter, melted
250g cream cheese, softened
1/4 cup lemon juice
395g can sweetened condensed milk
3 tsp gelatine
1/4 cup boiling water
300ml thickened cream
3 x 55g Cherry Ripe bars, chopped finely
Shaved dark chocolate to decorate
Instructions
Line an 18 x 28cm baking tray with baking paper.
Combine the biscuits, coconut and butter in a medium bowl then press firmly into the pan. Refrigerate while you make the filling.
Beat the cream cheese, lemon juice and condensed milk with an electric mixer until smooth. Dissolve gelatine in boiling water and beat into cream cheese mixture.
In a clean bowl, whisk cream until soft peaks form and fold into cream cheese mixture.
Fold in the Cherry Ripe pieces and pour mixture over base. Refrigerate for 2 hours or until set.
Cut into squares.
https://mumslounge.com.au/lifestyle/food/cherry-ripe-cheesecake-slice/