Chicken, Bacon, Asparagus & Camembert Hand Pies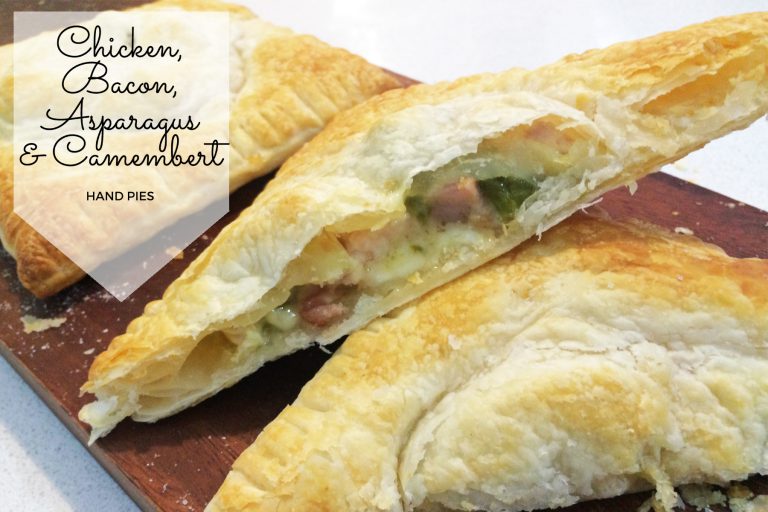 Chicken, Bacon, Asparagus & Camembert Hand Pies
Deceptively simple yet full of flavour, these chicken, bacon, asparagus and camembert hand pies are one of my family's favourite meals. Also included in this recipe is a handy alternate combination for children who would prefer not to eat the strong flavours of asparagus and camembert.
Here is what you need to throw this simple meal together:
One chicken breast fillet, 4 rashers of shortcut bacon, four sheets of puff pastry, olive oil spray, a packet of camembert cheese and a tin of asparagus. I guess you could use cooked fresh asparagus, but I've always preferred the tinned variety in this meal. It's nice and squishy, and the flavour blends well with the camembert.
If you have children who don't like asparagus and camembert, switch them out for half a handful of grated cheese and a swirl of tomato sauce instead. Switch the ingredients out, not the children. You might want to keep those around.
Fry up the chicken and bacon together in a pan until cooked, then allow to cool for as long as you can. The longer the better, you don't want to end up with a soggy bottom as the heat will melt the puff pastry.
Then just layer up the fillings – chicken and bacon first, then the asparagus, then the camembert.
Pop the lids on and press with a fork to seal. Then make a slit in the centre to allow for the air to escape while cooking. It might be wise to make a cross for the children's ones and a slit for the grown-up ones. That would make it easy to tell the difference when serving.
I forgot to make a slit before I took the picture, so just imagine that I did that already.
Pop them in the oven for twenty minutes or so and they are ready to serve! Try different fillings for these hand pies, like ham, cheese, tomato and baby spinach. Or use this filling inside a whole sheet of puffpastry folded up like an envelope for one big free-form pie. Whatever works for you!
Chicken, Bacon, Asparagus & Camembert Hand Pies
Ingredients
4 sheets of puff pastry, thawed
1 large chicken breast fillet, diced
4 rashers of shortcut bacon
1 tin of asparagus tips and cuts
1 package of camembert cheese, halved and sliced evenly
Olive oil cooking spray
Instructions
In a frying pan on medium high heat, cook the chicken and bacon together until the chicken has been cooked through and the bacon is starting to crisp, about 5 minutes or so. Remove from pan and allow to cool almost entirely.
Preheat oven to 200°C
Make two cuts in each sheet of puff pastry to make four evenly sized squares. Place roughly two tablespoons of chicken and bacon mixture into the centre of half of the puff pastry squares. Top with one tablespoon of asparagus cuts and place two pieces of camembert cheese on top.
Dip your finger into cold water and run it around the edge of the squares.
Put another puff pastry square on top of the mixture and align the edges. Press gently with your fingers, then seal the edges with the tip of a fork.
Place on a baking paper lined oven tray, spray with olive oil and bake for 20 minutes or until the pastry is golden. Serve immediately.
https://mumslounge.com.au/lifestyle/food/chicken-bacon-asparagus-camembert-hand-pies/