Chicken and Bacon Meatball Subs Recipe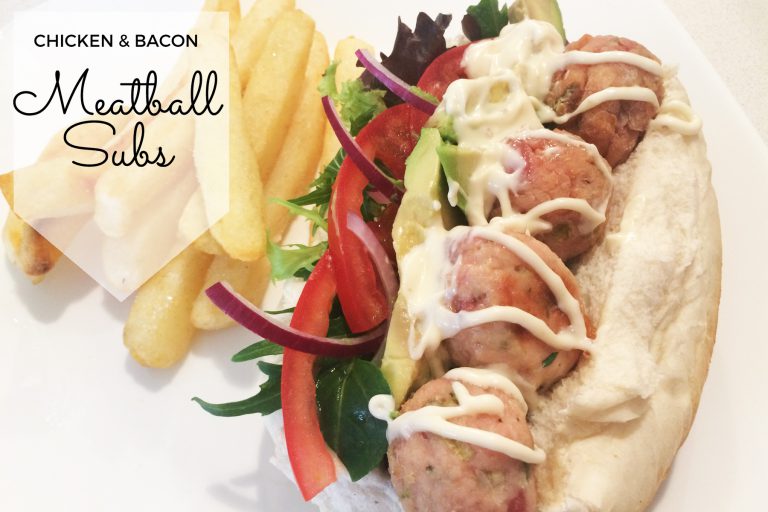 Chicken and Bacon Meatball Subs Recipe
It's always a very good thing when you can double a recipe and use the leftovers for a whole new meal, especially when the second meal is nothing like the first! I made these fabulous chicken and bacon meatballs to serve with a creamy alfredo pasta dish here, and made fresh flavoursome meatball subs with them the next day!
The meatballs heated through in the microwave in just a couple of minutes while I prepared the hotdog buns with salad ingredients. The onto the buns went the meatballs with a drizzle of garlic mayo and a side of oven fries. Ohh my goodness – so yummy! And so easy!
Here's how I made the meatballs and all the ingredients you'll need for them.
Chicken mince, a couple of rashers of bacon (trimmed of fat and chopped finely), a green onion finely chopped, some plain flour, garlic powder, freshly cracked black pepper and dried parsley.
You'll also need some kitchen preparation gloves for this one because chicken mince is gooey and messy. Wine glass with a straw is optional.
Roll your chicken and bacon mix into golf ball sized balls and place on a baking tray. I rolled the balls in a little plain flour too, as they were a little too wet and gooey. Then just pop in the oven to bake for twenty minutes.
Doubling the recipe is easy to do, just two times each quantity of ingredients and you're all set. The meatballs can keep for up to 3 days in an airtight container in the fridge so you have a few days to use your leftovers if you have any!
Chicken and Bacon Meatball Subs
Ingredients
For the Meatballs:
2 rashers of bacon, finely chopped
500g chicken mince
3 tablespoons plain flour
1 Shallot, diced
1 tablespoon dried parsley
1/2 teaspoon freshly cracked black pepper
1/2 teaspoon garlic powder
For the Subs:
Enough hot dog shaped rolls for everyone
lettuce
tomato
red onion
avocado
mayonnaise or aioli
Instructions
Prepare oven tray with baking paper. Pre-heat oven to 180deg with the rack in the middle. Combine all meatball ingredients and form into golf ball sized meatballs. Arrange in a single layer and bake for 15-20 minutes until golden brown.
Compile the subs by cutting the breadrolls lengthways and filling them with salad ingredients. Top with meatballs and drizzle with mayo.
Serve with oven fries.
https://mumslounge.com.au/lifestyle/food/chicken-bacon-meatball-subs-recipe/