Chicken Chopped Salad Recipe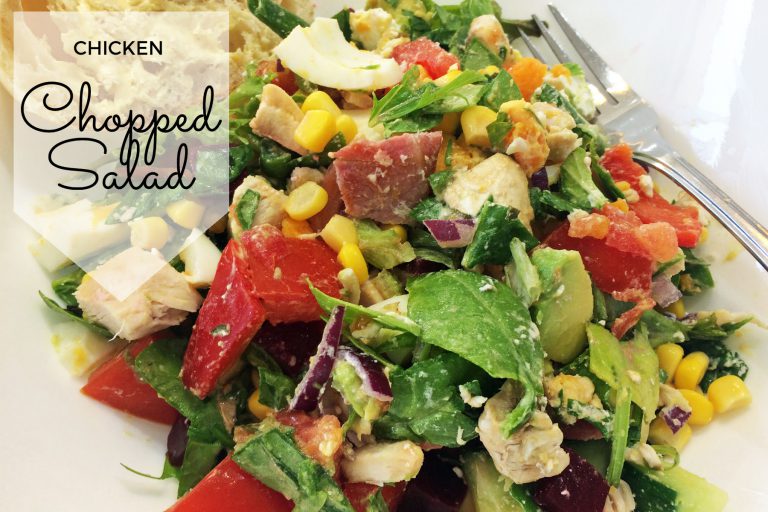 Chicken Chopped Salad Recipe
Here's one for you to save – a personalised chopped salad made from all your favourite salad ingredients and the meat from a barbecue chicken. Think home made Sumo Salad! You get exactly what you want in your bowl, and nothing you don't like. Every mouthful is bursting with flavour and healthy stuff.
Sounds amazing, right? It is!
So here's how it works. You arrange everything for the chopped salads on some big platters like this. I've included some boiled eggs and bacon too. Because everything is better with bacon.
These are the salad ingredients I put out: some marinated olives (my eldest loves olives), raw mushrooms, a small tin of corn kernels, roughly chopped cucumber, quartered tomatoes, slices of tasty cheese, lumps of fetta cheese, diced beetroot, some red onion slices, bacon, raw green beans, an avocado, baby capsicums, the meat from a barbecue chicken, mixed salad leaves and some salad dressings.
You put out what you and your family like. That's the whole point! They are personalised chopped salads, after all!
Ask the first person what they'd like in their salad and put a little bit in a bowl like so. You are making this just for them, and repeat this process one at a time until everyone is served.
Then empty the bowl onto a chopping board and grab a big knife.
Here comes the fun part! Using a rocking motion with one hand on the top of the blade, chop all the salad ingredients into smaller pieces. Mix it well as you chop too. Think of it like chopping herbs, only bigger. Scrape the bits at the sides back into the centre and chop some more.
Then put everything back into the bowl, add some dressing if you like and stir thoroughly. Serve with crusty bread.
Soo yummy!!
Ingredients
1 barbecued chicken, meat removed
4 rashers of bacon
4 eggs
1 bag of mixed lettuce leaves
2 tomatoes, quartered
1/2 red onion, sliced
3 mushrooms, quartered
1 small capsicum, roughly chopped
1 avocado, roughly chopped
1 small cucumber, roughly chopped
Feta or tasty cheese
Small tin of corn kernels
Small handful of raw green beans
Small tin of diced beetroot
Salad dressings of your choice
Instructions
Fry the bacon in a frying pan until crisp and golden. Boil the eggs for 4 minutes or until cooked to your liking. Peel and halve.
Arrange all the salad ingredients on a platter, then pick and choose which items each person would like in their chopped salad, placing them in a bowl.
Empty the bowl onto a chopping board and using a large knife, chop the salad into smaller pieces, mixing the ingredients well in the process. Rock the knife back and forth using the palm of your hand to keep it steady, like chopping fresh herbs.
Using salad tongs, place the salad back into the bowl and stir through salad dressing. Repeat for each person and serve with crusty bread.
https://mumslounge.com.au/lifestyle/food/chicken-chopped-salad-recipe/