Chicken Sausage and Spinach Risotto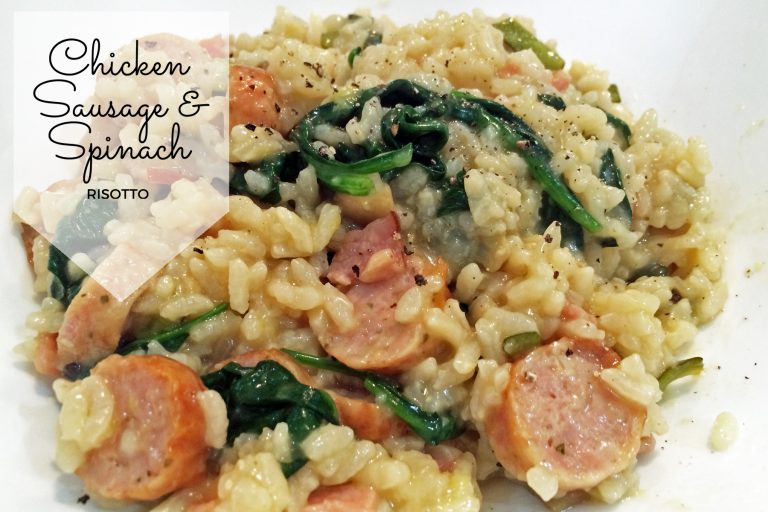 Chicken Sausage and Spinach Risotto
This chicken sausage and spinach risotto is a fantastic family-friendly meal that doesn't require standing over a pan stirring constantly and adding hot ladles of stock – you just pop it all in the oven and let it bake while you pour yourself a glass of wine, tidy up the kitchen and set the table. This is a risotto game-changer!
Cooking with chicken sausages makes things a little more interesting and they can usually be purchased at a reasonable price. They also hold their shape and don't become dry when oven-baked.
Chicken Sausage and Spinach Risotto
Ingredients
2 tablespoons olive oil
1 brown onion, finely chopped
2 garlic cloves, crushed
2 cups arborio rice
5 cups chicken stock
¼ cup white wine
6 - 8 chicken sausages
150g baby spinach
4 rashers finely chopped bacon
1 zucchini, diced
1 cup grated tasty cheese
¼ cup flat-leaf parsley, chopped
Instructions
1. Preheat oven to 170°C and place a 5-litre ovenproof dish in oven to heat.
2. Place a large frying pan over medium heat, add the olive oil and sausages and cook for 5-8 minutes until they are browned, then remove them from the pan and place on chopping board. Cut them into bite-sized pieces and reserve.
3. Add onion, garlic, bacon and zucchini to the pan and cook for 2-3 minutes until soft. Return the sausages to the pan and add the rice and cook, stirring for 1 minute. Add wine and stock and bring to the boil, then pour everything into the preheated dish. Cover tightly with a lid or foil and place in the oven for 15 minutes.
4. Remove and give everything a good stir, then cover again and return to the oven for a further 15 minutes. By this time all liquid should have been absorbed. If not, return to the oven uncovered for a further 5 minutes.
5. Remove and add the cheese, baby spinach and parsley, and season with salt and pepper. Stir well to combine and serve with crusty bread.
https://mumslounge.com.au/lifestyle/food/chicken-sausage-spinach-risotto/