Italian Meatballs with Fettuccine Recipe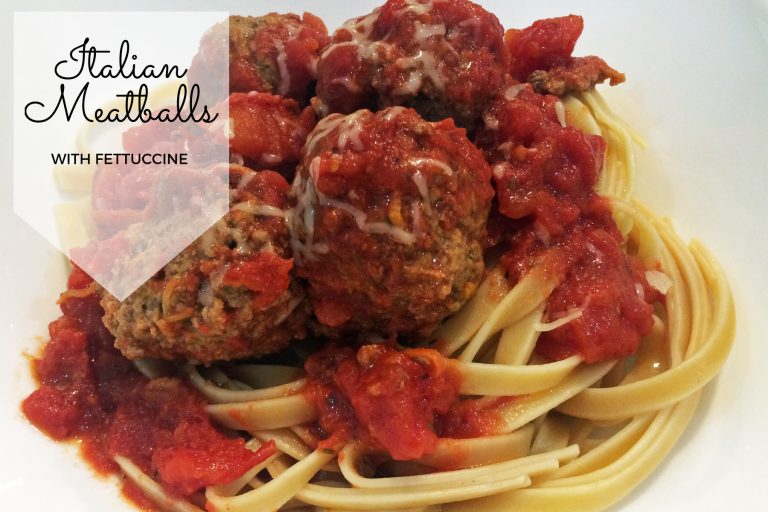 Italian Meatballs with Fettuccine Recipe
Now who doesn't love a good classic dish like Italian meatballs with fettuccine? This hearty, traditional recipe is a great foolproof go-to meatball recipe that you can switch up with different meats if you prefer. Try turkey or chicken mince, or half and half beef and pork mince. Or add flavour boosts like finely diced salami or bacon, chillies or fresh herbs. Make it as fancy as you like!
Serve over fresh or dried pasta – I've used fettuccine but spaghetti is always a popular variety, as is penne, linguine or tagliatelle. Add lots of parmesan and some garlic bread and this dinner is sure to be a winner!
Italian Meatballs with Fettuccine Recipe
Ingredients
Meatballs:
500g minced beef
1 cloves garlic, crushed
50g parmesan, finely grated
1 egg, lightly beaten
1/4 cup (35g) dried breadcrumbs
1 carrot, finely grated
Sauce:
1 onion, finely chopped
1 cup (250ml) dry white wine
1 cup chicken stock
400g can Italian chopped tomatoes
400g dried fettuccine pasta
Grated parmesan cheese, to serve
Instructions
1. Place all meatball ingredients in a bowl and season to taste with salt and pepper. Mix well to combine and form tablespoonfuls of mixture into balls.
2. Heat oil in a large frying pan or saucepan over high heat. Add meatballs and cook, turning occasionally, for 5 minutes or until well browned. Remove from pan and set aside.
3. Add onion to pan and cook, stirring, over medium heat for 5 minutes or until tender. Add wine and stock and simmer until reduced by half. Return meatballs to pan with tomatoes and bring to the boil. Cover and cook for 15 minutes or until sauce is thickened.
4. Meanwhile, cook pasta in a large saucepan of boiling salted water until al dente. Drain and divide among serving plates. Add meatballs and sauce and top with grated parmesan cheese. Serve with crusty garlic bread.
https://mumslounge.com.au/lifestyle/food/italian-meatballs-fettuccine/