Easiest Ice Cream Recipe Ever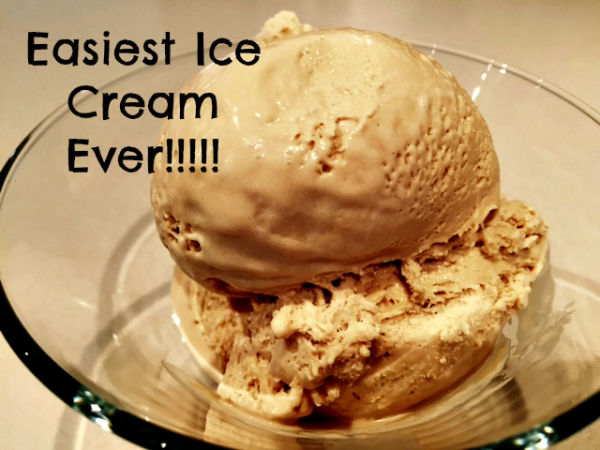 Easiest Ice Cream Recipe Ever
No ice cream maker required for this recipe for the easiest ice cream recipe EVER. No stirring and bringing to the boil cream and milk, no worrying about adding egg yolks and turning them into scrambled eggs. Lucky for me I was watching the beautiful Nigella on TV a few years ago and sitting there with pen and paper (just in case) and she threw together this ice cream with just FOUR ingredients; sweetened condensed milk, cream, espresso powder and coffee liquer.
Come to think of it, this recipe is really just two ingredients for the actual ice cream. The other two ingredients are the flavour. And you can swap these flavours around in ENDLESS combinations; substitute the coffee for cocoa powder and chocolate liquer, add vanilla bean extract and then flavour it with any essence you like and add food colouring to make it pretty. Or chopped nuts or peanut brittle or chocolate chips. The sky is the limit.
It is absolutely silky smooth and super creamy. Your ice cream maker might have to go on ebay once you try this.
Easiest Ice Cream Recipe Ever
Ingredients
1 can (395ml) sweetened condensed milk
300ml thickened cream
2 tbsp instant espresso powder
1 tbsp coffee liquer (I used Kahlua)
Instructions
Put all ingredients into a bowl and using an electric hand-mixer or whisk beat until soft peaks form.
Transfer to a freezer container and freeze until firm.
https://mumslounge.com.au/lifestyle/food/easiest-ice-cream-ever/