Chicken Schnitzels, Chips and Salad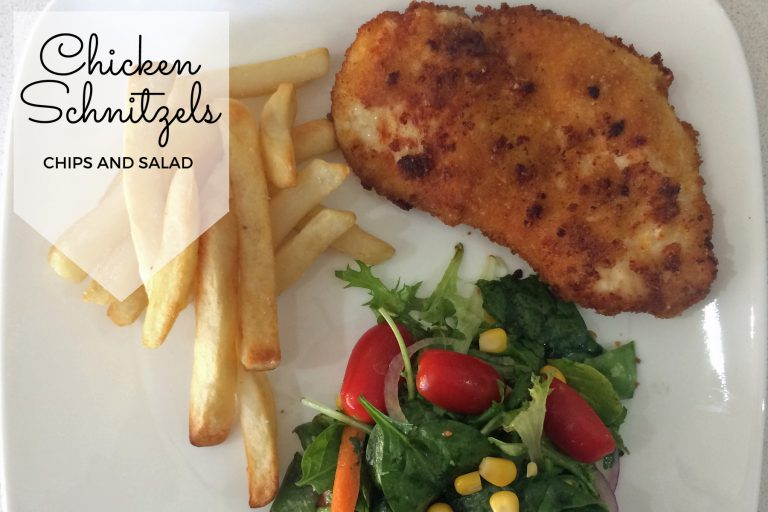 Chicken Schnitzels, Chips and Salad
Crumbed chicken is everyone's favourite, whether it comes in little nugget sized pieces or lovely big schnitzels! This recipe for chicken schnitzels, chips and salad is an easy pleaser for all ages, big and small.
Assemble the schnitzels ahead of time for a quicker prep at mealtime if you like, and use whatever salad ingredients you have on hand. Tasty meals don't have to be elaborate and expensive to satisfy your crowd, and this Aussie favourite certainly hits the mark every time.
Chicken Schnitzels, Chips and Salad
Ingredients
Ingredients:
2 large chicken breast fillets or 4 smaller ones
1 egg
¾ cup of plain flour
2 cups of packaged breadcrumbs
Canola oil
Salad:
Mixed salad leaves
Cherry tomatoes, halved
Red onion, sliced thinly
1 carrot, julienned
1 small tin of corn kernels
Oven fries to serve
Instructions
Place flour on one plate and breadcrumbs on another. Lightly beat an egg in a shallow bowl
If using larger chicken breast fillets, slice through the centre to form two thinner pieces.
Coat 1 piece of chicken in flour, shaking off excess. Dip in egg mixture. Coat in breadcrumb mixture and place on a plate. Repeat with remaining chicken, flour, egg mixture and breadcrumb mixture.
Preheat oven and cook the oven fries as per package directions
Heat oil in a frying pan over medium-high heat. Cook chicken, in batches, for 4 to 5 minutes each side or until golden and cooked through. Transfer to a plate lined with paper towel to drain.
Combine all salad ingredients and arrange on each plate. Serve with oven fries and chicken schnitzels.
https://mumslounge.com.au/lifestyle/food/chicken-schnitzels-chips-salad/
Note:
Add some parmesan cheese and dried rosemary to your breadcrumbs for a flavour boost.
Your salad ingredients can include anything you happen to have on hand – cucumber, avocado, sliced capsicum, sun-dried tomatoes, baby spinach, rocket, celery, pine nuts etc