Chicken and Bacon Puff Pastry Parcels Recipe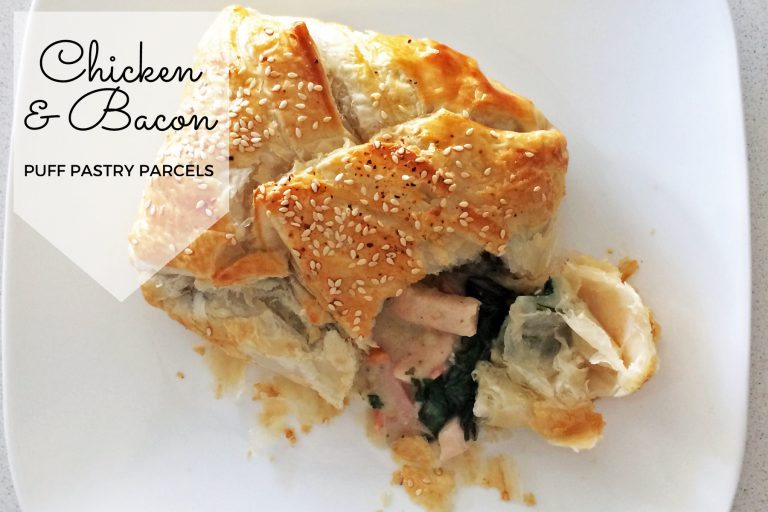 Chicken and Bacon Puff Pastry Parcels Recipe
You can't go past this cheap and easy recipe for chicken and bacon puff pastry parcels for a tasty meal everyone will love. Just mix one of Chicken Tonight's most popular simmer sauces through some sauteed chicken and bacon and you have a quick, tasty pie base for your puff pastry filling.
Next time try butter chicken flavoured puff pastry parcels with two cups of frozen mixed vegetables! Or perhaps curried chicken parcels with pumpkin and broccoli? There are many possibilities with this versatile family favourite.
Serves: 4
Prep time: 20 minutes
Cook time: 30 minutes
Difficulty: EASY
Chicken and Bacon Puff Pastry Parcels Recipe
Ingredients
2 chicken breast fillets, diced in 2cm cubes
4 rashers of bacon, chopped
1 jar of Chicken Tonight Country French Chicken flavour
150g baby spinach
2 shallots, finely chopped
4 sheets of puff pastry, thawed
I egg, lightly beaten
Sesame seeds
Instructions
Preheat oven to 180°C
Sauté chicken and bacon in a frying pan until cooked through and golden
Stir through Chicken Tonight simmer sauce and simmer uncovered for 10 minutes or until the sauce reduces slightly. Stir through baby spinach and shallots and set aside to cool for 10 minutes.
Place one quarter of the chicken mixture in the centre of each puff pastry square and fold the corners into the centre like an envelope. No need to brush the edges to seal, just press gently until secure. Place all four parcels on two baking paper lined trays.
Brush the top with the egg wash and sprinkle with sesame seeds
Bake in the oven for 30 minutes or until golden, switching the trays around halfway through.
https://mumslounge.com.au/lifestyle/food/chicken-bacon-puff-pastry-parcels/
Notes:
Use any flavour of simmer sauce that you prefer – Butter Chicken, Honey Mustard, Creamy Mushroom, Spanish Chicken, Curry, or Cacciatore, and add whatever vegetables you have on hand. Two cups of frozen mixed vegetables would be great mixed in as well.