Creamy Chicken Pot Pies Recipe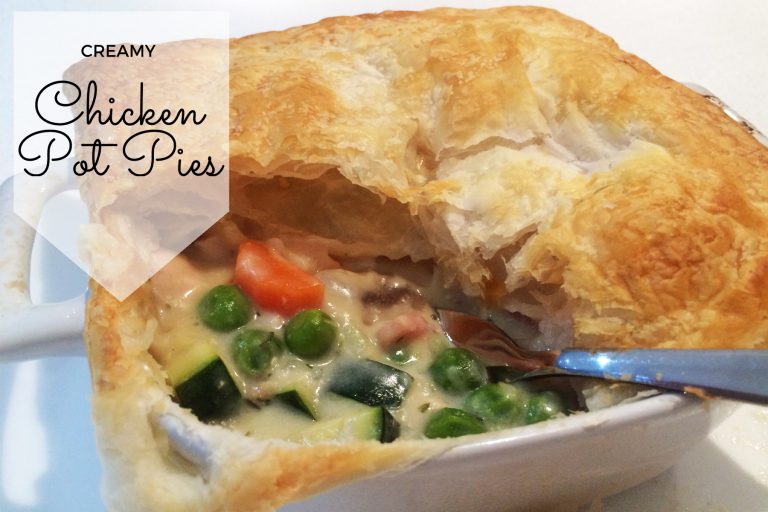 Creamy Chicken Pot Pies Recipe
Here's another recipe that is ideal to have stashed away for those nights when you lack inspiration for what to serve. Creamy chicken pot pies are a big hit in this household, and we make them in all sorts of sizes to suit each family member  – the littlest people get tiny ramekins and the bigger people get mini-casserole dishes! It's a fantastic, verstaile recipe that can be adapted to suit everyone.
And don't stop at pot pies – this yummy pie mix can be spooned into vol au vents or pre-bought pie cases and topped with mashed potato. Or try it on it's own and served with rice or pasta. Either way you serve it, chicken pot pies are a much loved family favourite.
Creamy Chicken Pot Pies Recipe
Ingredients
1 large chicken breast fillet, diced
5 rashers short-cut bacon, chopped
1 medium brown onion, finely chopped
1 clove garlic, crushed
200gms sliced mushrooms
2 cups milk
2 tablespoons plain flour
1 medium carrot, halved lengthways and chopped
1 zucchini, diced
1 cup frozen peas
1 cup grated tasty cheese
1 chicken stock cube, dissolved into 2 tablespoons water
2 tablespoons chopped fresh parsley (or 1 tablespoon dried parsley)
Salt and pepper to taste
4 sheets of puff pastry, thawed
Instructions
1. Preheat oven to 180°C
2. Heat oil in a large, heavy based saucepan and cook onion and garlic until tender. Add chicken and bacon and cook until chicken changes colour to white. Add the mushrooms and stir to combine, cooking for a further 3 minutes.
3. Stir in the flour and gradually add the milk, continuing to stir until the mixture starts to thicken. Add the rest of the ingredients (but not the pastry) and stir to combine. Allow to simmer gently for ten minutes.
4. Divide mixture among four oven-proof ramekins or small casserole dishes. Cut large squares or circles from puff pastry to fit the dishes and place them over the top of each ramekin or dish. Press down gently at the edges and spray with oil spray.
5. Bake for 20 minutes or until pastry is golden. Serve.
https://mumslounge.com.au/lifestyle/food/creamy-chicken-pot-pies-recipe/