Creamy Corn & Bacon Soup Recipe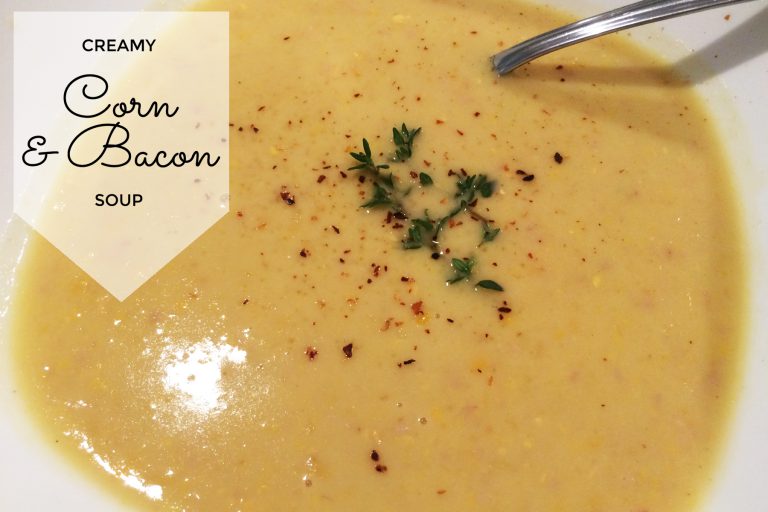 Creamy Corn & Bacon Soup Recipe
As a cold front sweeps across most of Australia dropping the temperatures into single figures, I thought it would be a good opportunity to crack out my favourite soup for the family to enjoy – creamy corn and bacon soup!
This soup is so delicious — it really is one of those soul-warming meals that is the very definition of comfort food. It only takes about forty minutes to make, and most of that time is spent cleaning up and enjoying a glass of wine while it simmers on the stovetop!
Make sure you serve it with loads of crusty bread to sop up the creamy soup too!
Here's what you'll need to get this meal on your table tonight.
One leek, some butter, garlic, bacon, two cobs of corn (plus a large tin of creamed corn, not pictured), chicken stock, a potato, cream and fresh thyme, plus some finely ground chilli flakes to serve.
Chop the pale section of the leek and fry with the bacon in butter until softened, then add the garlic. It smells amazing at this point!
Add the corn, potato and chicken stock and bring to the boil, then allow to simmer for twenty minutes or so. This frees up some time to do other things. You can also turn it off once it's reached this point until you're ready to serve. Then just reheat it and continue with the recipe.
Once the potato is tender, blend the soup carefully with a stick blender and stir through the cream. Then divide among serving bowls and top with thyme and chilli flakes.
Enjoy!

Ingredients
20g butter
1 leek, pale section only, coarsely chopped
2 bacon rashers, finely chopped
2 garlic cloves, crushed
2 corn cobs, husks and silks removed
1 tin creamed corn
1 potato, peeled, coarsely chopped
4 cups (1L) chicken or vegetable stock
1/2 cup (125ml) thickened cream
Ground chilli flakes, to serve
Thyme sprigs, to serve
Instructions
Heat the butter in a large saucepan over medium-high heat. Cook the leek and bacon, stirring, for 5 mins or until leek softens. Add the garlic and cook, stirring, for 1 min or until fragrant.
Use a large sharp knife to cut down the length of each corn cob to remove kernels. Add corn kernels, creamed corn, potato and stock to the leek mixture. Bring to the boil. Cook, stirring occasionally, for 20 mins or until potato is tender.
Carefully use a stick blender to blend until smooth. Stir in cream. Season.
Ladle soup among serving bowls. Top with chilli and thyme sprigs and serve with lots of crusty bread.
https://mumslounge.com.au/lifestyle/food/creamy-corn-bacon-soup/