Discovery Parks Giveaway: 4 Holiday Vouchers Up for Grabs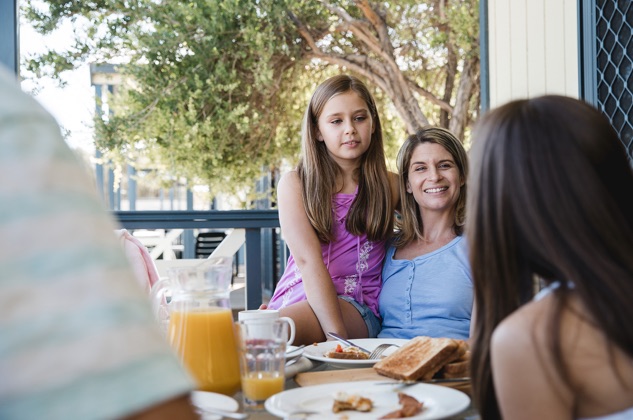 In need of a winter escape? Discovery Holiday Parks can get you on your way with 4 holiday accommodation vouchers up for grabs!
When was the last time you and your family packed your suitcases into the car and headed off on an adventure together? In fact, when was the last time you all spent some time together without the distractions of TV screens, tablets and phones? (I honestly can't remember!)
As parents, we spend so much time and energy working to provide both the necessities and create a comfortable lifestyle for our loved ones, that making real time to spend with them can slip down our list of priorities without us even realising it. But spending quality time together has benefits for everyone; it helps our children feel more confident and secure, builds stronger family bonds and (apart from when they decide to poke one another in the backseat of the car) it's good for our emotional and mental health too. In fact, a study by the University of Pittsburgh's Mind-Body Centre shows that health benefits such as lower blood pressure, healthy weight and lower stress hormones can all result from the leisure benefits of a holiday!
So, now that we have taken care of the why you should take that break you've been longing for, let Discovery Holiday Parks take care of the where. 
As the largest owner and operator of lifestyle holiday parks in Australia, Discovery Holiday Parks understand what you are looking for in a holiday location. Since the inception of their holiday park group in December 2004, they have sought out the most outstanding parks in Australia, in the outback, on the water front or nestled within national parks.
As part of their commitment to continuous improvement they regularly review their accommodation, features and facilities, to ensure that they are offering the most comprehensive range of options. Whether you seek 4.5 star family luxury by the water or a simple camp site for two in the middle of nowhere, they have it covered. With over 60 park destinations all around the country, the only difficulty you and your family will have will be deciding which park to visit first.
Giveaway
And today might just be your lucky day, because Discovery Holiday Parks are giving Mums Lounge readers the chance to win 1 of 4 amazing prizes.
1 Grand prize:
1 x $1000 Discovery Holiday Parks voucher
3 Runner up prizes:
3 x $250 Discovery Holiday Parks voucher
For your chance to be one of Discovery Holiday Parks 'happy campers,' simply complete the entry form below. Good luck!