Creamy Honey Mustard Chicken with Bacon Recipe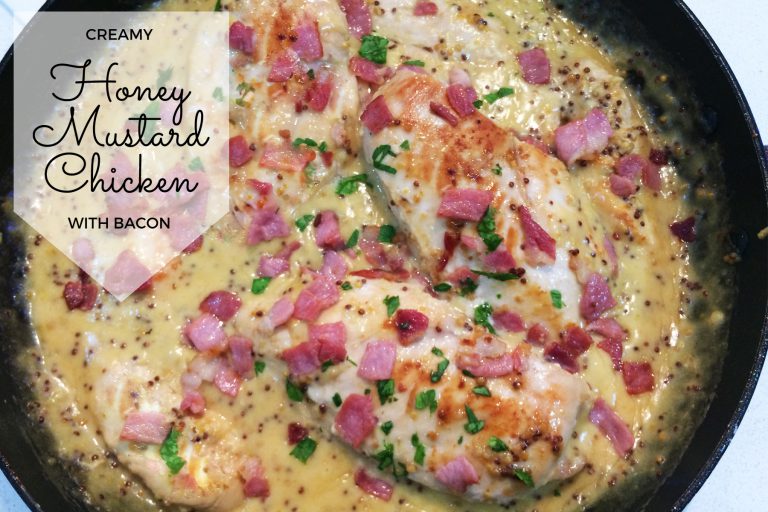 Creamy Honey Mustard Chicken with Bacon Recipe
Who doesn't love a good honey mustard chicken recipe? Ohh it's just the best, isn't it? Especially when you add bacon!
This recipe is so good, you'll never buy the Chicken Tonight version again. I promise. It's super easy to throw together, and uses mostly pantry and fridge staples.
Here's what you'll need to have this meal on the table within half an hour.
Enough chicken breast fillets to feed everyone. This meal makes enough sauce for between four and six serves so only cook as many chicken breast fillets as you need to serve everyone, about one smallish fillet each. You'll also need some bacon, garlic, cream, milk, salt, honey, wholegrain mustard, fresh parsley, cornflour and olive oil.
Firstly, make up your marinade, pop the chicken in it and set aside until required.
Then you fry the bacon until crisp and golden and set aside. Fry the chicken until browned and almost cooked through, then remove them to a plate and add the honey mustard mixture to the pan with the milk and cream. Simmer the sauce, then return the chicken to the pan to cook through. Add a little cornflour to thicken the sauce, then top with parsley and crispy bacon.
Serve your delicious honey mustard chicken with steamed veggies and mashed potato or wedges. YUM!!
Creamy Honey Mustard Chicken with Bacon
Ingredients
1/3 cup of honey
3 tbsp wholegrain mustard
3 cloves garlic, crushed
1 tbsp olive oil
Pinch of salt
4-6 smallish chicken breast fillets (depending on serves)
4 rashers of bacon, diced
1/3 cup of cream
1 cup of milk
1 tsp cornflour mixed with 1 tbsp of water
2 tbsp chopped fresh parsley to serve
Steamed veggies and mashed potato or wedges to serve
Instructions
In a large bowl, combine the honey, mustard, garlic, oil and salt. Add the chicken and stir to coat. Set aside.
Heat a non-stick pan over medium heat and fry bacon until golden. Transfer to a plate. Add the chicken to the same pan and sear until they turn brown and are almost cooked through, about 3-5 minutes per side. Transfer to a plate.
Add the remaining honey mustard marinade to the pan along with the cream and milk. Bring to a simmer while stirring, scraping the delicious bits off the bottom of the pan as you go. Return the chicken to the pan and simmer gently for another 5 minutes or until the chicken is cooked through.
Pour the cornflour slurry into the pan and stir to thicken. Top with bacon and parsley and serve with steamed veggies and mash or wedges.
https://mumslounge.com.au/lifestyle/food/creamy-honey-mustard-chicken-bacon-recipe/