Creamy and Spicy Chicken Fajita Pasta Recipe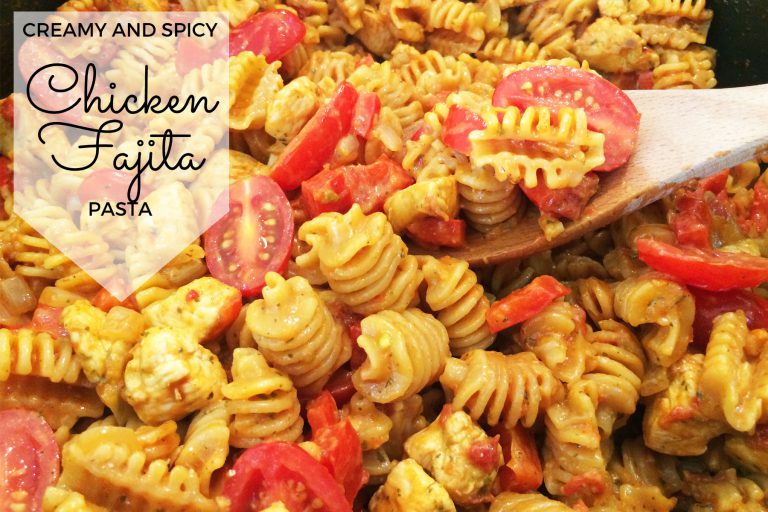 Creamy and Spicy Chicken Fajita Pasta Recipe
My family love tacos like there's no tomorrow, and we eat a lot of pasta, which is another family favourite. So I thought, why not combine the two? And so Chicken Fajita Pasta was made, and it is the best thing ever!
It is all made in the one pan, plus it can be on the table in under half an hour, making it a perfect mid-week family meal.
Want to know how to make it? Let's go!
First, gather these ingredients:
You'll need two chicken breast fillets, a packet of Fajita seasoning (mild or spicy, your call!), an onion, a capsicum, a punnet of cherry tomatoes, some garlic, a packet of dried pasta shapes, olive oil, salt and pepper, cream, a tin of tomatoes and some chicken stock. Easy!
Cut the chicken into small, bite sized pieces and coat with half of the seasoning mix. Then heat a large frying pan and fry them until golden and cooked through. Remove the chicken to a plate and add the capsicum, onion and garlic to the same pan with the rest of the spicy seasoning. Cook the vegetables then remove to the chicken plate.
Now add the stock, cream and tomatoes to the pan and bring to the boil. Add the uncooked pasta, cover and cook until tender. Then simply return the chicken and vegetables to the pan with some halved cherry tomatoes and stir to combine, until the chicken has reheated through.
Serve immediately with some crusty bread or on its own – creamy spicy chicken fajita pasta! Yum!!
Creamy and Spicy Chicken Fajita Pasta
Ingredients
2 tablespoons olive oil
2 chicken breast fillets
1 packet of fajita seasoning
1 brown onion, diced
1 red capsicum, chopped
3-4 cloves garlic, minced
2 cups chicken stock
1/2 cup cream
1 tin of diced tomatoes
1 punnet of cherry tomatoes, halved
500g dried pasta shapes
Salt and pepper to taste
Instructions
Cut the chicken into bite-sized pieces and season with half the fajita seasoning. Heat 1 tablespoon olive oil in a frying pan over high heat. Add the chicken and cook, stirring, until golden and cooked through. Remove the chicken to a plate and set aside.
Add the remaining oil to the pan and add the onions, capsicum, and remaining fajita seasoning. Cook, stirring occasionally, until the veggies have softened. Add the garlic, and stir until fragrant and well combined, about 30 seconds. Remove the veggies to the plate with the chicken.
In the same frying pan, add the stock, cream, diced tomatoes, uncooked pasta, and salt and pepper. Stir to combine and bring to a boil, then cover, reduce heat to medium-low, and cook for 15 minutes until pasta is tender and liquid is mostly absorbed. Return the chicken and veggies to the pan with the cherry tomatoes. Stir to combine and heated through, about 2 minutes. Serve immediately.
https://mumslounge.com.au/lifestyle/food/creamy-spicy-chicken-fajita-pasta-recipe/