Creamy Tomato and Garlic Agnolotti Pasta Recipe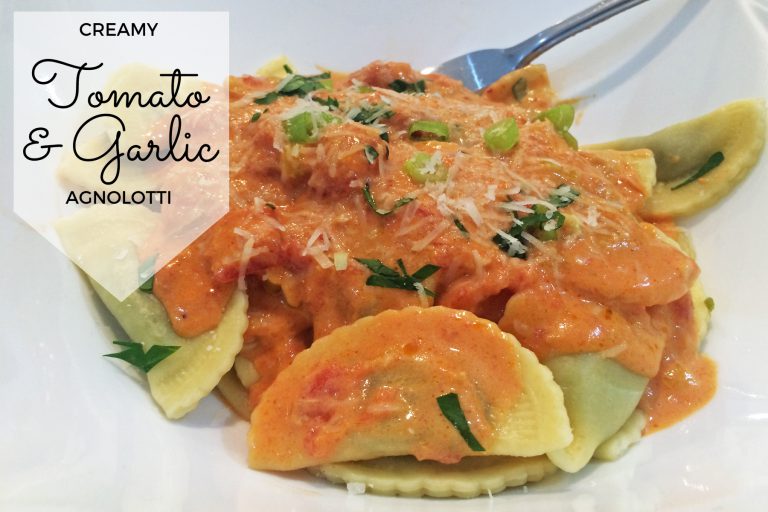 Creamy Tomato and Garlic Agnolotti Pasta Recipe
We all need a quick pasta sauce tucked up our sleeves for those occasions when we're out of time and inspiration, and this amazing tomato and garlic cream sauce is one of the very best. Zinging with garlic and chilli flavours, it is pure heaven served over ricotta and spinach agnolotti.
The sauce is the star in this dish, and you can whip it up in less than ten minutes. Set the pasta going and it will be ready by the time it's cooked!
Here are all the ingredients you will need to pull this simple and tasty meal together.
Olive oil, one clove of garlic, two shallots, cream, one tin of diced tomatoes, parmesan cheese, fresh parsley and some ricotta and spinach agnolotti.
I'm gonna level with you here – I found these packets of agnolotti on special (60% off!) for $2.40 each. You don't have to use these specific pasta packets, use whatever you prefer. This amazing sauce would be delicious poured all over anything! Cook up some spaghetti and stir through to make red spaghetti, or serve poured all over penne or curls. The sauce is the star, not the pasta. Make it work with what you have.
Also, while I'm owning up to stuff, I made this recipe up on the fly. And as such, I didn't include two additional ingredients in the image above because I added them later, so here they are.
That chilli salt is the bomb. Just saying.
Actually making the sauce is easy as can be. Saute your crushed garlic and chopped shallots for a minute, then add three-quarters of a tin of diced tomatoes, cream and seasonings.
Let it simmer for a couple of minutes and then serve with grated parmesan, chopped fresh parsley and some additional shallots.
OMG, so good!! And so quick and easy too! I hope you enjoy it as much as we did!
Creamy Tomato and Garlic Agnolotti Pasta Recipe
Ingredients
2 packets of Latina Ricotta & Spinach Agnolotti
1 tbsp olive oil
1 clove garlic, minced
2 shallots, finely chopped (reserve a small portion to garnish)
300ml cream
¾ tin of diced tomatoes
1/8 tsp chilli salt
1/8 tsp paprika
Grated parmesan cheese and fresh parsley to serve
Instructions
Cook pasta as per packet directions
Meanwhile, heat oil in a frying pan and sauté garlic and shallots for 2 minutes. Add cream, diced tomatoes, chilli salt and paprika and simmer, stirring for 5 minutes or until reduced slightly.
Serve over cooked agnolotti pasta with grated parmesan, parsley and some extra shallots.
Notes
Use any prepackaged filled pasta that you like, or just stir through spaghetti pasta. Whatever works for you.
https://mumslounge.com.au/lifestyle/food/creamy-tomato-garlic-agnolotti-pasta-recipe/