Make your own KFC with The Colonel's Original Recipe Kentucky Fried Chicken Pieces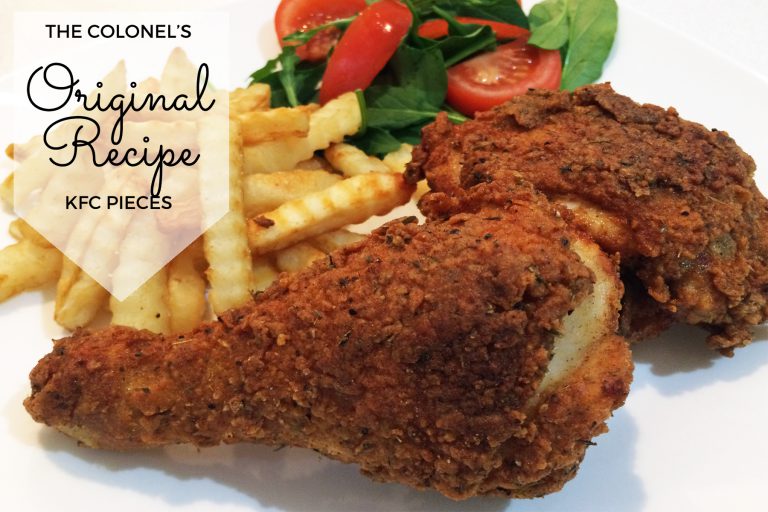 Make your own KFC with The Colonel's Original Recipe Kentucky Fried Chicken Pieces
We decided to road test "the recipe that broke the Internet". This recipe is claimed to be The Colonel's original KFC recipe, finally revealed after 75 years. Now, we can't go past a good piece of finger lickin' goodness so we gave it a go.
The recipe calls for one large whole chicken cut into eight to ten pieces. No worries, says I, never having cut a raw chicken into pieces before. I can completely strip a bbq chook in minutes. It can't be that hard, surely?Wrong. It was awful. I wouldn't advise it. I'm still having nightmares. I mean, I did it. The results were okay. We all ate it. But I was traumatised and will not be doing that again.
Just buy two kilos of drummies for $6 instead. It's cheaper and will save you so, so much angst. Obviously a range of different cut pieces would be ideal, but I went to two supermarkets, one butchers and a chicken shop and no one sold any. Hey ho, let's keep going.
Next up, combine some buttermilk with one beaten egg and marinate your chicken pieces for twenty minutes.
After my harrowing experience cutting up the chicken, I completely forgot about the egg and marinated my chicken pieces in buttermilk alone. And guess what, they were just fine.
While the chicken is happily having a buttermilk bath, mix up your secret herbs and spices. Here's an idea of what you will be needing.
Plain flour, dried basil, dried thyme, dried oregano, garlic salt, celery salt, plain salt, black pepper, mustard powder, paprika (a whole jar!), and ground ginger.
Whisk these yummy ingredients together like so.
Now, here's something important that I figured out.
This recipe makes far too much coating mix than you will need to coat 2kgs of chicken pieces. I think I only used one third to one half of the mix, and because I had been dunking raw chicken into it, I couldn't save it for another day. I was most upset.
So at this stage, I would advise you to divide the mix in half into two bowls. Then just work from one bowl. If you need more, great! It's right there in the other bowl. If you don't, great! Make chicken schnitties with this awesome coating mix next week. Trust me on this one. It was a shame to throw it away.
One by one, coat your chicken pieces in the mix and set aside on a tray.
Then heat at least 2 litres of oil in a large saucepan (I don't have a deep fryer or air fryer, if you do, great! Use that instead) until a piece of bread bubbles and cooks in the oil. If you have a thermometer (I don't), aim for 175 degrees Celsius.
Cook each piece for 13 minutes, turning occasionally, then remove from the oil with a slotted spoon and drain on kitchen paper.
Serve with oven fries and a salad.
FINAL VERDICT
Okay, I'm not sure that it was exactly like KFC in any way other than price. I mean they tasted AWESOME, but not like current recipe KFC.
Pricewise, once you buy the large whole chicken ($11), buttermilk ($2.50), herbs and spices (the paprika alone was nearly $3 and I used all of it, the rest will keep in the pantry) and oil ($4), I might as well have just bought a big bucket of actual KFC.
Having said that, if you buy 2 kilos of drumsticks instead ($6) and only use half of the seasoning mix saving the rest for another meal, you could get the price down a little.
Timewise, if you decide to forgo the hideous butchering of a whole chicken and use pre-packaged chicken pieces instead, you'd save a lot of time and angst.  *still recovering*
I will be making this recipe again – either with drumsticks or using the mix to crumb schnitzels. We all loved it and the chicken itself was tasty, tender and juicy.
The Colonel's Original Recipe KFC Pieces
Ingredients
2kg chicken pieces – drumsticks, thigh cutlets, wings
2 cups plain flour
1 tbsp ground ginger
1 tbsp dried mustard
1/3 tbsp dried basil
2 tbsp garlic salt
1 tbsp celery salt
2 tbsp black pepper
4 tbsp paprika
1 tbsp dried thyme
1/3 tbsp salt
1/.3 tbsp dried oregano
1 cup buttermilk
1 egg, lightly beaten
2L canola oil for deep frying
Instructions
Combine the egg and buttermilk in a large bowl and place the chicken pieces into the mixture to marinate for 20 minutes.
Meanwhile, place the flour, herbs and spices into a large bowl and whisk to combine.
Divide the coating mixture in half in two bowls. One at a time, take each chicken piece out of the buttermilk mixture and coat in seasonings mix. Transfer to a tray until all chicken pieces are coated, using the second batch of coating mix as needed.
Heat the oil in a deep fryer or large saucepan to 175°C or until a small piece of bread sizzles when dropped in.
Cook the chicken in batches for 13 minutes, turning occasionally. Remove with a slotted spoon and drain on kitchen paper. Serve with oven fries and salad.
https://mumslounge.com.au/lifestyle/food/make-kfc-colonels-original-recipe-kentucky-fried-chicken-pieces/