Crispy Homemade Chicken Tenders with Honey Mustard Sauce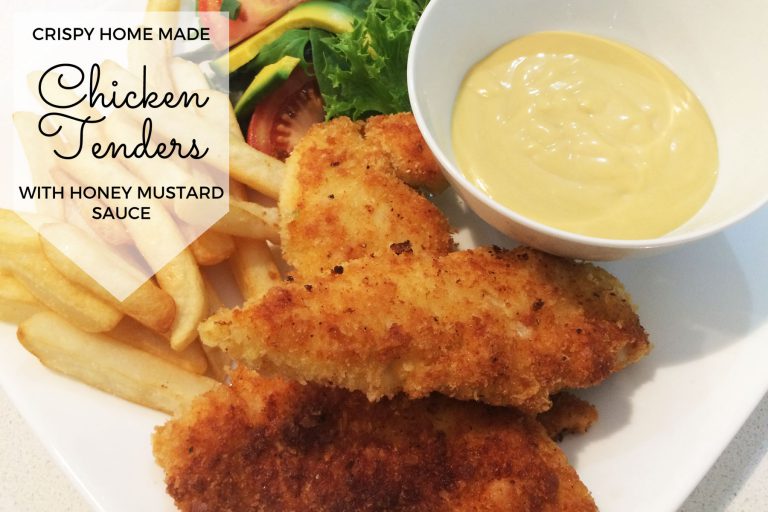 Crispy Homemade Chicken Tenders with Honey Mustard Sauce
Forget about frozen chicken tenders – we'll be making them from scratch from now on with this amazing lemon pepper and garlic panko crumb! And to go with, what could be more perfect than a super simple honey mustard dipping sauce? Nothing. Nothing is more perfect, that's what!
These chicken tenders weren't that laborious to throw together, either. I always seem to have it in my mind that crumbing things is too much effort, but it really isn't. And the results are so worth it.
Here's what you'll need:
Chicken tenders — I bought two packets because we are a big family. One might be enough for you, but this recipe will provide enough crumbing ingredients for about 1kg of chicken, serving around 6 people. You'll also need some eggs, garlic powder, lemon pepper, cayenne pepper, flour, salt and pepper, panko breadcrumbs and peanut oil for frying. You don't have to use peanut oil if you have people with allergies, just use your normal canola or vegetable oil.
And for the honey mustard dipping sauce, you'll need some dijon mustard, some honey and some sour cream!
Set your bowls and plates out for crumbing — flour in one, beaten eggs in the next, then seasoned breadcrumbs in the third. Working from left to right, place the chicken tenders one at a time into the flour, then into the eggs, then into the panko breadcrumbs to coat fully. Then place them onto a plate ready for frying. I know it sounds like a lot of effort but it's really not that bad, especially if you're cooking with a friend.
Then it's just a matter of pan frying your delicious crispy chicken tenders until golden and cooked through. And of course, whisking together your amazing honey mustard dipping sauce!
Serve with oven fries and a salad for a complete meal. Enjoy!
Crispy Homemade Chicken Tenders with Honey Mustard Sauce
Ingredients
Peanut oil, for frying
1 kg chicken tenderloins
3 eggs
1 cup plain flour
2 cups panko bread crumbs
1 teaspoon garlic powder
1 teaspoon lemon-pepper
1/2 teaspoon cayenne pepper
Salt and freshly ground pepper
Honey Mustard sauce:
1/2 cup Dijon mustard
1/2 cup honey
2 tbsp sour cream
Instructions
Beat the eggs in a separate bowl and place the flour onto a large plate or dish. Place the breadcrumbs onto another large plate or dish and season with garlic powder, lemon-pepper, cayenne, salt and pepper.
Dip the chicken strips into the flour, then the egg and then dredge them into the seasoned panko.
Fry in the hot peanut oil for 6 to 8 minutes, until golden brown, and remove to a paper towel lined sheet tray.
To make the honey mustard dipping sauce, whisk the ingredients in a small bowl until combined. The sauce can be stored in the refrigerator for up to 1 week.
Serve crispy chicken tenders with oven fries, salad and dipping sauce.
https://mumslounge.com.au/lifestyle/food/crispy-homemade-chicken-tenders-honey-mustard-sauce/