Dilmah Tea Tiramisu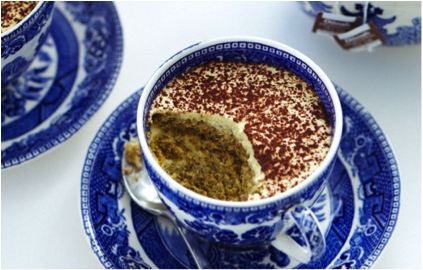 Teacup ' Dilmah Tea Tiramisu'
You will need clear the dust from four of your nicest teacups and saucers to serve this dish in. Although there are many steps involved they are all quite simple.
Ingredients
200ml tea liqueur (see recipe below)
1 egg, separated
1 -2 tbsp caster sugar
85g mascarpone
12 teacake rounds (see recipe below)
100ml thickened cream, lightly whipped
Cocoa, for dusting
Method
1. Beat egg yolk and sugar in a large bowl with electric beaters until pale and thick. Add the mascarpone and whipped cream, mixing gently until just combined.
2. Beat egg whites in a medium bowl with electric beaters until soft peaks form. Using a large metal spoon, gently fold egg whites into the mascarpone mixture.
3. Place the smallest circle of cake into the bottom of each teacup
4. Spoon over approximately 3 teaspoons of tea liqueur
5. Cover with mascarpone mixture
6. Repeat twice more, using the largest circle of cake for the top layer and finish with the mascarpone mixture.
7. Cover with plastic wrap and refrigerate for at least two hours. Dust generously with cocoa and serve.
Tea Liqueur ('Tea-a-maria')
Ingredients
90ml good quality vodka
3 tsp of your favourite aromatic loose leaf tea, eg Dilmah Earl Grey
1 tbsp condensed milk
1 tbsp cream
1 ½ tbsp brewed cold black tea
Method
1. Place tea leaves and vodka into a clean glass jar and steep for 18 hours.
2. Strain through fine sieve and discard the leaves.
3. Add condensed milk, cream and brewed tea. Shake well.
4. Keep for several weeks in the fridge
TEACake (Makes 4-5 muffin size cakes)
Ingredients
90g tea-infused butter (see recipe below)
1 tbsp black tea-ground (this gives a nice colour and a nutty texture to the cake)
¼ cup caster sugar
1 egg
90g self-raising flour
1tbsp plain flour
60ml milk
Method
1. Preheat oven to 170°C (or 150 fan-forced). Grease muffin tin.
2. Beat butter and sugar together until pale and creamy.
3. Add the egg and beat well.
4. Sift flours together.
5. Fold flour and tea into the mixture in two batches with the milk.
6. Spoon into a muffin pan and carefully smooth over the surface.
7. Bake for 15-20 minutes or until a skewer comes out clean, then allow to cool for 15 minutes before turning onto a wire rack
8. Once completely cool, cut each cake into three circles. (You can make the cakes the day before so they are less crumbly and will also absorb the liqueur better).
http://www.dilmah.com.au/
http://onlineshop.dilmah.com.au/
Dilmah is a family-owned Sri Lankan tea company established by Merrill J. Fernando, the first tea grower to offer his tea, grown, handpicked and traditionally made, directly from the origin. The Dilmah Family is committed to the traditional, artisanal style of tea-making so rejects the much cheaper but prevalent Cut Twist Curl (CTC) method of tea manufacturing, and emphasises the importance of tea as a luxurious delicacy and a naturally healthy herbal beverage that is rich in variety.