Dilmah Tea infused Choc Chia Pudding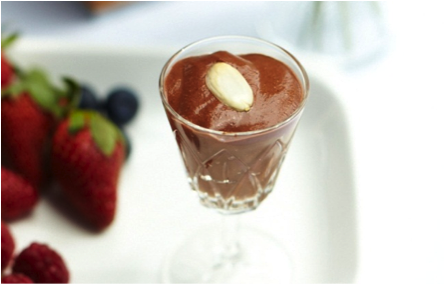 Dilmah Tea infused Choc Chia Pudding
Dilmah Tea infused Choc Chia Pudding
Ingredients
1 cup plain almond milk
4 Dilmah Exceptional Italian Almond teabags
½ cup fresh pitted Madjool dates
3 tbsp chia seeds (black or white)
1 ½ tbsp good quality dark cocoa powder
Seeds scraped from open vanilla bean
Fresh berries and/ or toasted almond slices to serve
Instructions
Heat milk in a pot on the stove with the tea and dates until the tea infuses to your liking. Be careful to no boil or burn it. Take out the tea bags and cool the mixture.
In a blender, add infused milk, dates, chia seeds, cocoa, salt, and vanilla. Blend for a minute or more, until it's smooth.
Taste and if you like it sweeter, add another few dates. If you like a thinner pudding, add another drop of milk and blend again.
Transfer mixture into little glasses. Refrigerate until chilled.
Top with fresh berries and a few toasted almonds to garnish.
https://mumslounge.com.au/lifestyle/food/dilmah-tea-infused-choc-chia-pudding/
http://www.dilmah.com.au/
http://onlineshop.dilmah.com.au/
Dilmah is a family-owned Sri Lankan tea company established by Merrill J. Fernando, the first tea grower to offer his tea, grown, handpicked and traditionally made, directly from the origin. The Dilmah Family is committed to the traditional, artisanal style of tea-making so rejects the much cheaper but prevalent Cut Twist Curl (CTC) method of tea manufacturing, and emphasises the importance of tea as a luxurious delicacy and a naturally healthy herbal beverage that is rich in variety.