Easy 30 Minute Cottage Pie Recipe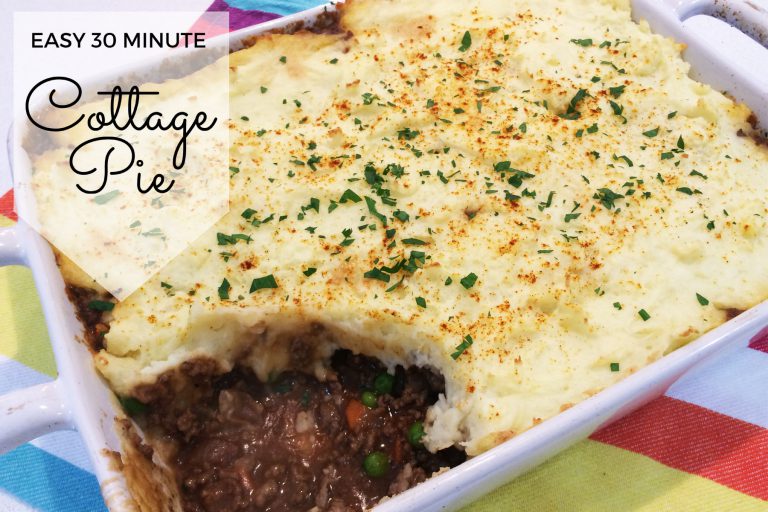 Easy 30 Minute Cottage Pie Recipe
This is a recipe you'll definitely want to save. Nothing beats a good old fashioned cottage pie for a hearty meal that will satisfy the whole family! And nothing beats a no-nonsense 30-minute recipe, either!
You'll find loads of fancier recipes for cottage pie, like this one I made last year. And while the fancier one is undoubtedly amazing (because bacon, hello!), this easier recipe is done in half the time and perfect to throw together with the ingredients you probably already have on hand.
And just like Jamie Oliver always says, getting yourself fully prepared is the key to smashing it out of the park in under half an hour. Get those spuds peeled and onto the boil, then brown your mince while you're peeling and dicing the carrots and onion. Keep those potatoes boiling while you make up a quick and easy gravy, then mash the potatoes while the mince mixture thickens.
Then it's just a matter of pouring the mince and vegetable mixture into a rectangular casserole dish, spooning the mash on top, sprinkling with a little paprika, and popping the whole shebang under the grill for a few minutes until the potato topper is golden.
Garnish with a little chopped parsley (always optional, but always welcomed!) and you're all done, ready to serve to your hungry family.
And there you have it! Simple, honest family fare. Meat and mash with a delicious savoury gravy and chopped vegetables. Yum!
Easy 30 Minute Cottage Pie
Ingredients
1 kg potatoes, peeled and diced
2 tbsp butter
1/4 cup milk or cream
1 tbsp olive oil
1kg beef mince
1 carrot, peeled and chopped
1 onion, chopped
2 tbsp butter
2 tbsp plain flour
2 cups beef stock
2 tsp Worcestershire sauce
2 tbsp tomato paste
2 tbsp soy sauce
1/2 cup of frozen peas
Salt and freshly ground pepper to taste
1 tsp paprika
2 tbsp chopped fresh parsley
Instructions
Boil potatoes in salted water until tender.
Meanwhile, preheat a large frying pan over medium high heat, add some olive oil and cook the mince, breaking up with a spoon until browned. Add chopped carrot and onion to the mix and cook, stirring for five minutes.
Melt butter in a smaller saucepan and whisk in flour. Slowly add the beef stock while stirring, until the gravy thickens. Add to the mince and vegetables with the Worcestershire sauce, tomato paste, soy sauce and peas. Season to taste and simmer gently while you prepare the potatoes.
Drain and mash the potatoes with butter and milk or cream until smooth and creamy. Pour the mince mixture into a rectangular casserole dish and spoon the mashed potatoes over the top. Sprinkle with paprika and place under the grill for five minutes or until golden. Top with chopped parsley and serve.
https://mumslounge.com.au/lifestyle/food/easy-30-minute-cottage-pie-recipe/