Easy Family Antipasto Platter – the Perfect Throw-Together Meal!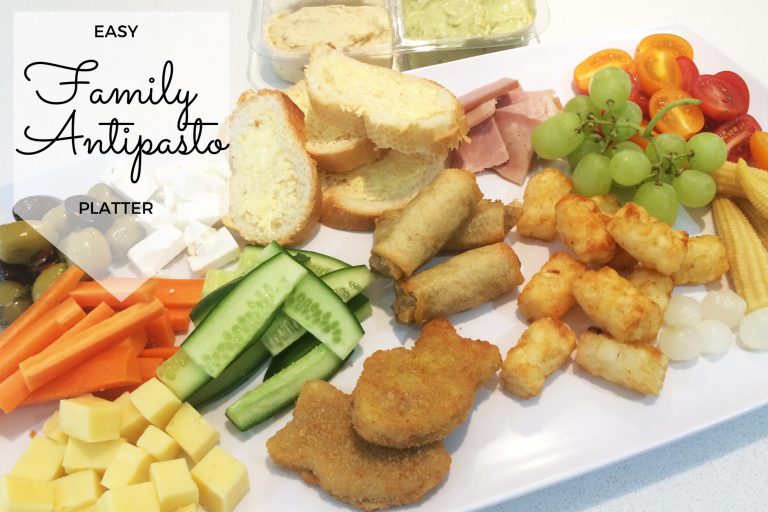 Easy Family Antipasto Platter – the Perfect Throw-Together Meal!
So it was my turn to take the kids to their Milo cricket training on a Tuesday evening, which royally stuffed up our family dinner plans. And what made it even harder was that we left the house just after 5pm and didn't get back in until about 7, meaning that we couldn't eat beforehand and it was getting a bit late to make a big meal afterwards. I had to think of something to keep four hungry kids happy and fed — fast!
I didn't want to go through drive-through — feeding all six of us at Maccas now costs upwards of $50. I'm all for convenience, but not at that price! I also didn't want to just bung in some oven chips and nuggets. And so I came up with one of the easiest meals ever – the family antipasto platter!
My kids absolutely loved serving themselves from the big platter. They chose a little bit of everything, wolfed it all down and then went back for seconds.
And the best part is, you can use whatever you and your children like to eat. Put chips and nuggets on the platter! But add some fresh fruit, some raw veggies, cheeses, dips and other bits and pieces and transform boring old chips and nuggets into a personalised healthy feast!
Here's what we used on our platter.
Some marinated olives (two of my kids love them! And so do I, let's be honest!), carrot sticks, cucumber sticks, cubed tasty cheese, cubed feta cheese, a french stick thinly sliced and buttered, some little fish pieces claiming to be full of veggies, cocktail spring rolls and potato gems. Also…
… some sliced deli meats (we had ham), fresh grapes, halved cherry tomatoes, baby corn spears and some pickled onions and a tray of dips. Other things you might like to serve could be chicken nuggets, party pies, sausage rolls, prawns, other deli meats like salami or corned beef, cocktail frankfurts, celery sticks, watermelon, apple, dim sims, crumbed prawn cutlets, oven chips, hash browns, quartered boiled eggs, pasta salad, twiggy sticks, cabanossi, smoked salmon — whatever you and your family enjoy. The possibilities are endless.
It's a really simple, easy meal to throw together in a hurry, and it can be as healthy or as naughty as you want it to be!
Easy Family Antipasto Platter
Ingredients
Carrot sticks
Cucumber sticks
Celery sticks
Cubed tasty cheese
Cubed feta cheese
Marinated olives
Chicken nuggets
Fish pieces
Potato gems
Crusty bread
Pickled onions
Spring rolls
Crumbed Prawn cutlets
Sliced deli meats
Grapes
Baby corn spears
Cherry tomatoes
Sausage rolls
Party pies
Dips
Instructions
Cook hot elements as per packet directions.
Meanwhile, chop and arrange all other elements on a large tray or platter. Add the hot food to the platter and serve with tongs and dip.
https://mumslounge.com.au/lifestyle/food/easy-family-antipasto-platter-perfect-throw-together-meal/