Family Friendly Chicken Fried Rice Recipe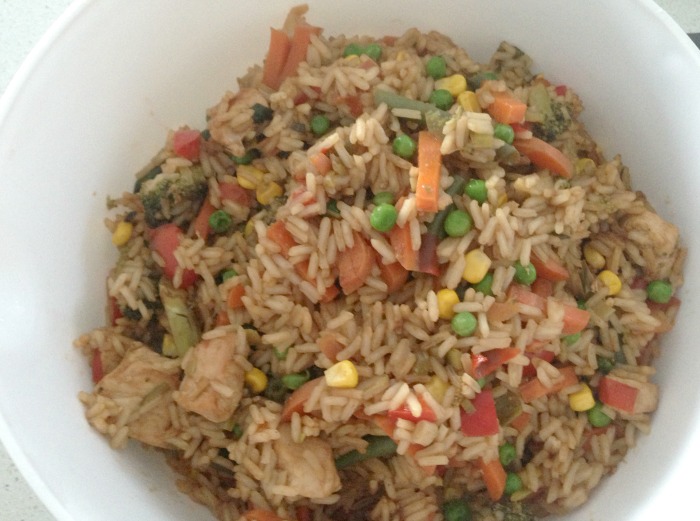 By the time the end of the week rolls around, I am always looking for quick and easy meals for our family.  This family friendly Chicken Fried Rice is the perfect easy meal and as an added bonus, it's a great way to use up any vegetables you may have lurking around in your fridge.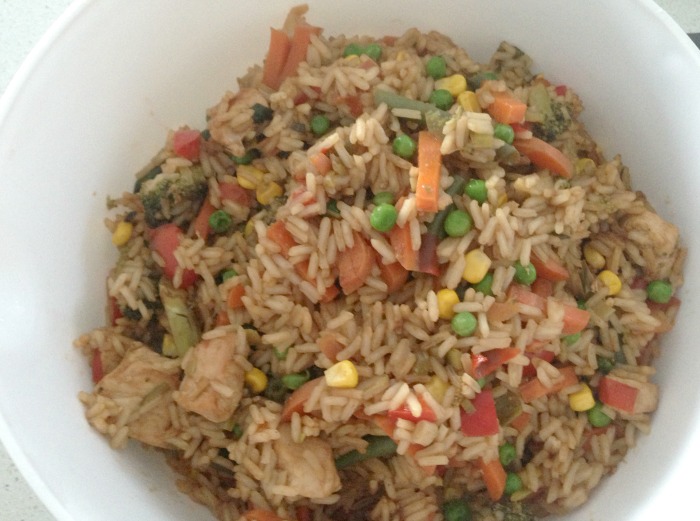 This recipe is really versatile and you can add whatever combination of vegetables your family will enjoy.
Family Friendly Chicken Fried Rice Recipe
Ingredients
500g of diced skinless chicken breast
3 rashes of shortcut bacon
1 stick of celery which has been finely chopped
1 carrot – cut into small sticks
3 spring onions
1 full head of broccoli which has been cut into small pieces
1 capsicum – cut into small pieces
½ cup of frozen peas
Small tin of corn
200g of beans - halved
200g of snow peas
50g of raw cashews
1 cup of uncooked rice
1 tablespoon olive oil
1 pack of honey soy and garlic stirfry sauce
1 tablespoon of sweet chilli sauce, this is optional
Instructions
Chop and prepare all of your veggies before you begin.
Add the olive oil to a wok and bring it up to a high heat. Add the diced chicken and bacon and cook until the chicken has browned and almost cooked through.
While the chicken is cooking, bring a saucepan of water to the boil and add rice - cook as per the packed instructions.
Add celery, carrot, spring onions, broccoli, capsicum, beans and cashews to the wok and cook until just starting to get tender
Add cooked rice, snowpeas, peas, corn and sauces to wok, mixing all ingredients together and cook until snow peas are cooked through which will only take a couple of minutes.
Serve
https://mumslounge.com.au/lifestyle/food/family-friendly-chicken-fried-rice-recipe/
What is your favourite recipe to clean out your veggie crisper?