Family Meal in Under 30 Mins: Easy Mexican Stack Recipe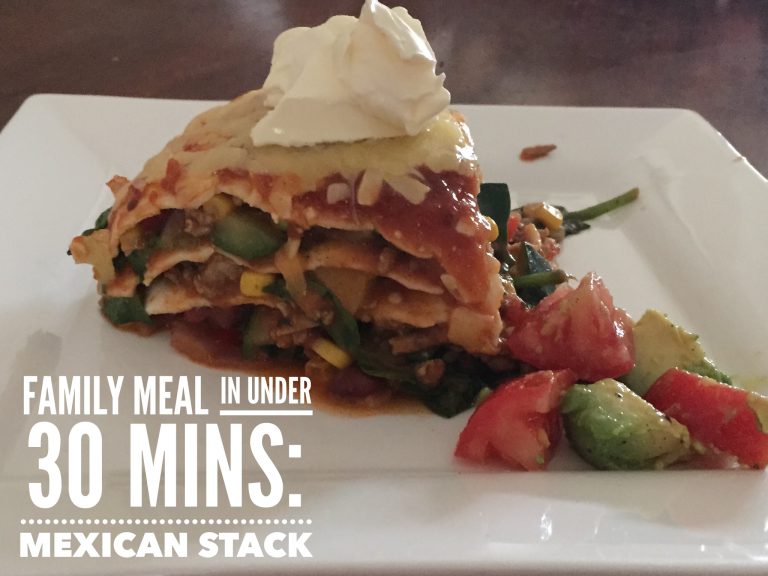 Sponsored post
Next month the kids and I have plans to visit the Mission Mexican Festival in Melbourne (full details at bottom of post). After going to the cinema to watch 'The Book of Life' movie during the last school holidays, lots of questions were raised – so what better way to teach them (and learn myself) about the Mexican culture, and in particular Mexican Independence Day, than to immerse them in some Mexican culture?
Let's face it – it's probably the closest we are actually going to get to actually visiting Mexico anytime in the foreseeable future!
Oh, and it's free – so it's a great low cost way to spend a leisurely Sunday. Let's hope Melbourne puts on some good weather for us!
Already keen connoisseurs of (mildly spiced) Mexican food (with a generous helping of sour cream) – the children and I have been keenly counting down the weeks until the event with our Mexican Monday meals! If the clean plates and happy tummies after this week's Mexican offering are anything to go by – I think Mexican Monday may extend way past the September Mission Mexican Festival.
Want to know the best part? It was chockas full of veggies and it took me less than 30 minutes to prep, stack, and bake.
I know! It looks pretty impressive! So it's perfect for either a mid-week super quick family meal, or a weekend social gathering with friends. Seriously? Who doesn't love Mexican?
TIP: Need a gluten-free option? Use Mission Foods' White Corn Tortilla's in place of the Mission flour tortillas!
If you are looking for a quick and easy go-to dinner that will have your family scoffing down their vegetables without even batting an eyelid, look no further!
Mid-week Meal in Under 30 Minutes: Mexican Stack
Ingredients
Mexican Stack
Mission Food Burrito Kit (MILD) (contains:)
Mission Tortillas (check)
Mission Salsa
Mission Burrito Seasoning
Minced Turkey (I love Turkey mince as it's lovely and lean – but this recipe will work with any of your favourite minced meat e.g. Beef, chicken, pork etc).
Tinned diced tomatoes
Tinned kidney beans
(This is the perfect recipe to pack in your family's daily veggie quota without complaint! Don't be afraid to get creative and use up what you have in the fridge).
Here is what I used:
Zucchini diced
Red onion diced
Red Capsicum diced
½ cup frozen/fresh sweet-corn kernels
1 cup of water
Spinach leaves
Grated cheese to top
Side salad
Tomatoes diced
Avocado diced
Splash of olive oil
Half lime juice
Cracked black pepper to taste
Method:
Preheat oven to 200C
Heat a dash of cooking oil in a large frying pan. Brown mince meat.
Add your diced veggies of choice, e.g. onion, capsicum, zucchini.
Add tinned diced tomatoes and tinned kidney beans.
Sprinkle in the burrito mix from the Mission Food Burrito kit and 1 cup of water.
Allow to simmer for 15 minutes.
Place your Springform tin on an oven tray. Place a tortilla on the bottom of the Springform tin. Top with a handful of spinach leaves.
Spoon meat and veggie mixture over the spinach leaves in a layer. Top with another tortilla and repeat.
Continue to layer the tortilla, spinach and meat mixture until you reach the top of the Springform Tin or run out of tortillas – be sure to end with a tortilla. (Remaining meat mixture can be kept for a lunchtime wrap or nacho dip! Shhh! Just don't tell the kids!)
Top the final tortilla with the salsa from the Mission Burrito Kit and sprinkle with your favourite grated cheese.
Place in the oven for 10-15 minutes until cheese is melted and golden.
Serve with your choice of side salad….and the all-important dollop of sour cream!
Sit back and watch the spoils of your labour devoured! A rare moment of silence in my home!
FREE Family Event – Mission Mexican Festival in Melbourne
 Sunday 13th of September from 11.30am to 8pm
 Fed Square Melbourne
Mexfest was founded in 2012 by a group of enthusiastic Mexicans living in Melbourne with the mission of bringing the best of Mexican culture, traditions, food and art to Melbourne. Mexican Festival takes place every mid September in Federation Square, to celebrate Mexican Independence Day.
Mexican Independence Day is one of the biggest holidays in Mexico. People celebrate with food, songs, fireworks, festivals, parades, music and more.
The most patriotic day for Mexicans and internationally the most celebrated. Contrary to what many believe, Cinco de Mayo (5th of May) is not Mexico's Independence Day, but the remembrance of a historic battle (The battle of Puebla)
El Grito de la Indepedencia (The Cry for Independence) is held annually on Sept. 16th in honor of Mexico's independence from Spanish rule in 1810.
For more information visit www.mexfest.com.au
Disclosure: This post is sponsored by Mission Food Australia.  As always, all thoughts and opinions expressed here are my own.