Ferrero Rocher Chocolate Hazelnut Slice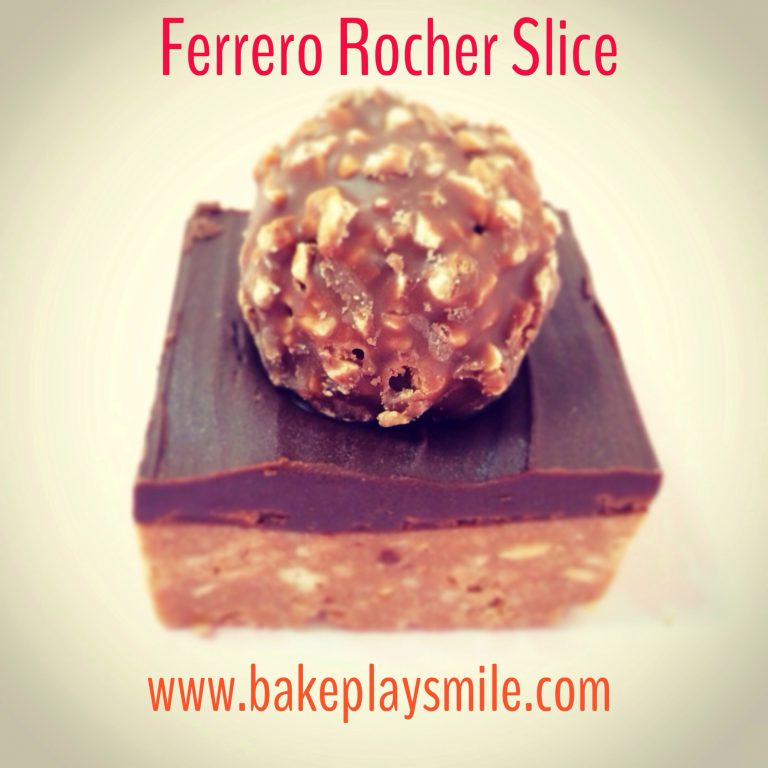 Ferrero Rocher Chocolate Hazelnut Slice – Bake Play Smile
I had a box of Ferrero Rocher chocolates sitting in the cupboard and while I do like them on their own, I don't absolutely love them! Not like I love Cadbury Favourites or Lindt Balls anyway! And because I was in the mood for some baking I thought I'd experiment with making a chocolate hazelnut slice topped with dark chocolate and Ferrero Rocher balls!
I was also having lunch with my Gran the next day and thought that this slice would be perfect to take. I'm always a bit nervous baking for my Gran because she is such a good cook! I remember when my brother and I were younger, we would go and stay with her and she would make the best homemade lemon butter. It was so good you could have eaten it straight out of the jar.
Anyway, back to the slice… I started off by making a really basic base using crushed biscuits, condensed milk and butter. However, I also melted a block of Cadbury Hazelnut chocolate and mixed it in to give the base an extra hazelnutty taste! A girl can never have too much chocolate!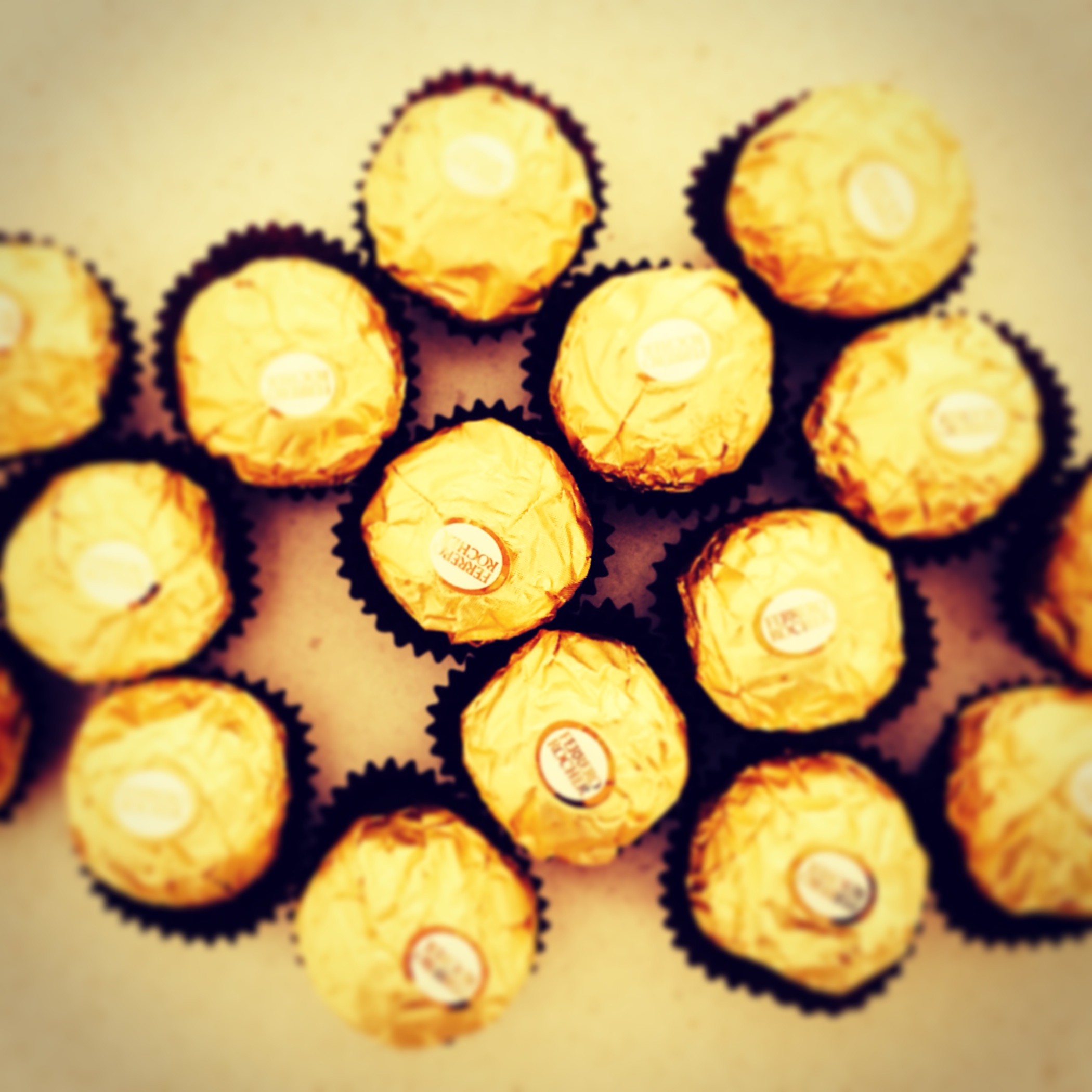 From there I melted some dark chocolate and butter to make a yummy topping and placed the Ferrero Rochers in nice straight lines on top of the chocolate. Anyone who knows me will also know that I couldn't have possibly had the Ferrero Rochers in anything but perfectly straight lines! I'm a bit crazy with things like that.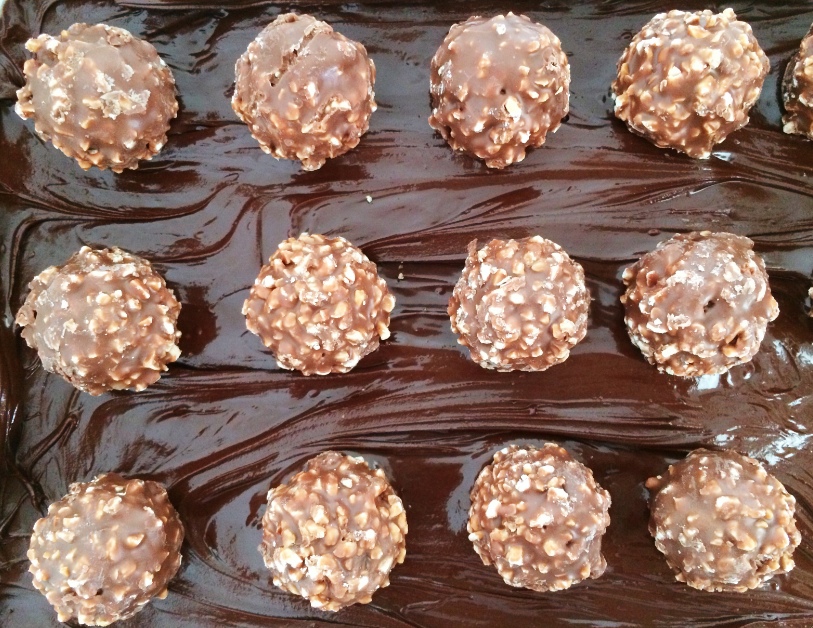 I left the slice overnight and then cut it into squares the next day. It ended up looking really effective with the Ferrero Rocher balls sitting nice and high, but it was actually one of the simplest recipes ever! I would definitely make this again, especially if I was wanting to impress someone…. without having to actually go to any effort!
Ferrero Rocher Chocolate Hazelnut Slice
Ferrero Rocher Chocolate Hazelnut Slice
Ingredients
• 1 X 250g packet sweet biscuits - Marie or similar
• 125 g Butter, roughly chopped
• 220 g block of Cadbury Hazelnut chocolate, broken into pieces
• 200 g sweetened condensed milk, (1/2 tin)
• 200g dark chocolate cooking melts
• 30g butter (for topping)
• 12-16 Ferrero Rocher balls (depending on how big you want your slice pieces to be)
Instructions
Crush biscuits until they resemble a fine crumb (a few chunks is fine!).
Place biscuit crumbs into a bowl.
Melt butter, hazelnut chocolate and condensed milk in a saucepan over low heat, mixing continuously.
Pour the melted butter mixture onto the biscuit crumbs and stir until well combined.
Press down into a 20X30cm lined slice tin.
Place in fridge.
Melt dark chocolate and butter in a small saucepan (or the microwave).
Pour over slice and swirl with a knife to get a lovely effect.
Quickly place the Ferrero Rocher balls in straight lines on top of the melted chocolate.
Place in fridge for at least 3 hours (overnight is best).
Take the slice out of the fridge and leave for 10 minutes before cutting (this will help to prevent the chocolate from cracking).
Cut the slice into squares leaving one Ferrero Rocher ball on each slice.
Store in the fridge in an airtight container for up to a week.
https://mumslounge.com.au/lifestyle/food/ferrero-rocher-chocolate-hazelnut-slice/