Fettuccine Boscaiola Recipe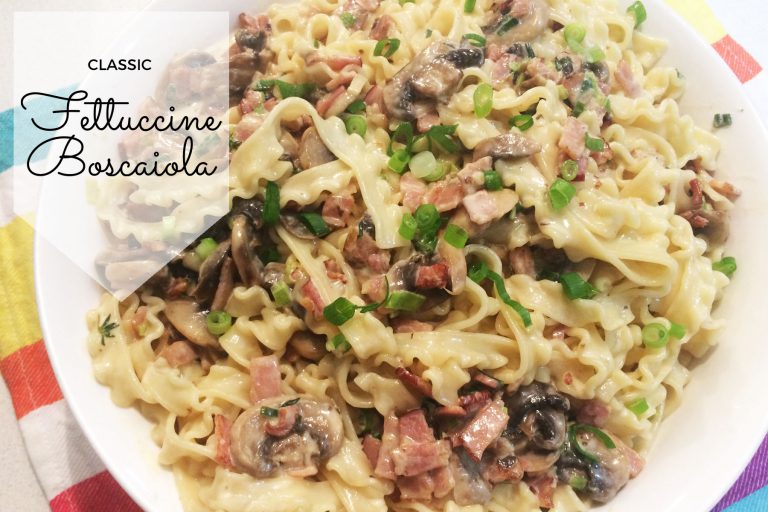 Fettuccine Boscaiola Recipe
Hold on to your knickers, ladies, for I believe that I have found the most delicious pasta dish EVER! It took less than half an hour to make this big pan of al dente fettuccine stirred through the most amazing creamy, cheesy, bacon and mushroom sauce and it is oh-so-divine! Fettuccine boscaiola is a game changer in my house. There, I said it!
We all loved it and fought over the leftovers, that's how much we enjoyed it. Want to know how to make it? Let's go!
Curly fettuccine pasta, bacon, mushrooms, thyme, butter, cream, shallots, salt and pepper, and romano and parmesan cheese. I guess you could just use double the amount of parmesan and leave out the romano if you like. I don't think it would make too much difference to the overall flavour.
Put a big pot of salted water on to the boil and get your fettuccine cooking. While that's going on, chop your bacon and pop it into a frying pan to crisp a little. Then remove it to a plate and add the mushrooms, butter and thyme. Cook for a few more minutes until the mushrooms are golden, then return the bacon to the pan and add most of the shallots.
It's smelling like heaven right about now…
Now add the cream and allow to simmer for six or seven minutes. Drain the pasta and mix through the sauce, then divide among your serving bowls garnished with reserved parmesan and shallots. Enjoy!!
Ingredients
500g dried curly fettuccine pasta
250g bacon rashers, thinly sliced
40g butter
400g cup mushrooms, thinly sliced
5 shallots, ends trimmed, thinly sliced
600ml pouring cream
50g (1/2 cup) shredded parmesan cheese, plus extra to serve
50g (1/2 cup) shredded romano cheese
2 tbsp fresh thyme
Instructions
Cook the pasta in a large saucepan of salted boiling water until al dente. Drain.
Meanwhile, cook the bacon in a large non-stick frying pan over medium heat, stirring often, for 4 minutes or until golden. Use a slotted spoon to transfer to a plate.
Heat the butter in the frying pan. Add the mushroom and thyme and cook, stirring often, for 5 minutes or until tender and the liquid has reduced.
Add three quarters of the shallots and stir to combine. Stir in the bacon and cream. Simmer for 6-7 minutes or until the mixture thickens slightly. Add the parmesan and romano, and stir until well combined.
Add the pasta to the sauce. Season with salt and pepper and toss until well combined. Divide the pasta among serving dishes. Top with extra parmesan and shallots.
https://mumslounge.com.au/lifestyle/food/fettuccine-boscaiola-recipe/