French Onion Sausages with Cheesy Mashed Potatoes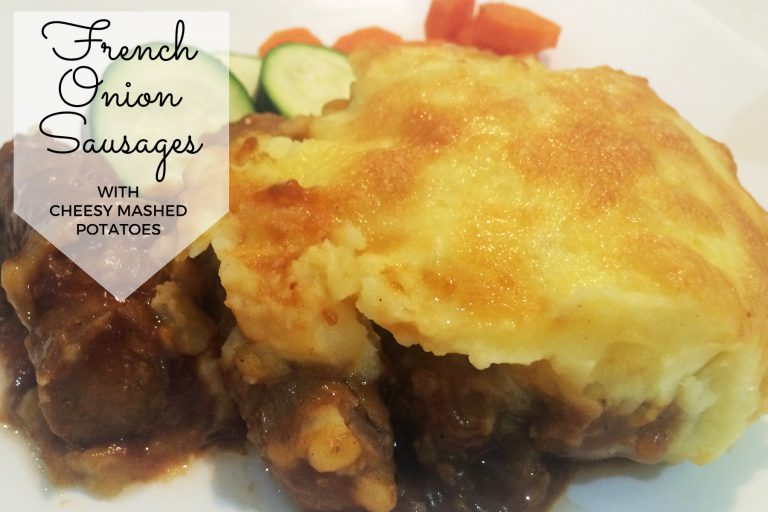 French Onion Sausages with Cheesy Mashed Potatoes
If you're looking for something a little different than plain old sausages and mash, then French onion sausages with cheesy mashed potatoes is the recipe for you. Cheese and potatoes are a match made in comfort food heaven any day of the week, and it's doubly delicious when combined with these rich, French onion gravy-coated sausages!
French Onion Sausages with Cheesy Mashed Potatoes
Ingredients
1kg Desiree potatoes, peeled, roughly chopped
40g butter, chopped
¾ cup milk
1 tablespoon olive oil
1 brown onion, sliced
500gm sausages
¼ cup tomato sauce
¼ cup barbecue sauce
1 tablespoon Worcestershire sauce
35g packet French onion soup mix
1 tablespoon plain flour
½ cup grated tasty cheese
Your favourite vegetables - carrots, zucchini, beans, peas, cauliflower, broccoli, corn on the cob etc to serve
Instructions
1. Place potatoes in a saucepan, cover with cold water and bring to the boil over high heat. Simmer for 20 to 25 minutes or until tender. Drain and return to pan, then add butter, milk and salt and pepper and mash until smooth.
2. Preheat oven to 200°C. Heat oil in a deep frying pan over medium heat and add onion and cook for 3 minutes or until tender. Add sausages and cook, stirring occasionally, for 3 minutes or until browned. Whisk tomato sauce, barbecue sauce, Worcestershire sauce, soup mix, flour and 3/4 cup water in a jug, then stir into sausage mixture and bring to the boil.
3. Spoon the sausage mixture into an 8-cup capacity casserole dish. Top with mashed potato and sprinkle with cheese. Bake for 25 to 30 minutes or until cheese is golden. Serve with your favourite vegetables.
https://mumslounge.com.au/lifestyle/food/french-onion-sausages-cheesy-mashed-potatoes/
Note:
I like to chop the cooked sausages in half before adding the wet ingredients to the pan. Alternatively, you could use chipolatas but I find they are more expensive and don't have as many kid-friendly varieties as normal sausages do.