Fried Rice with Prawns Recipe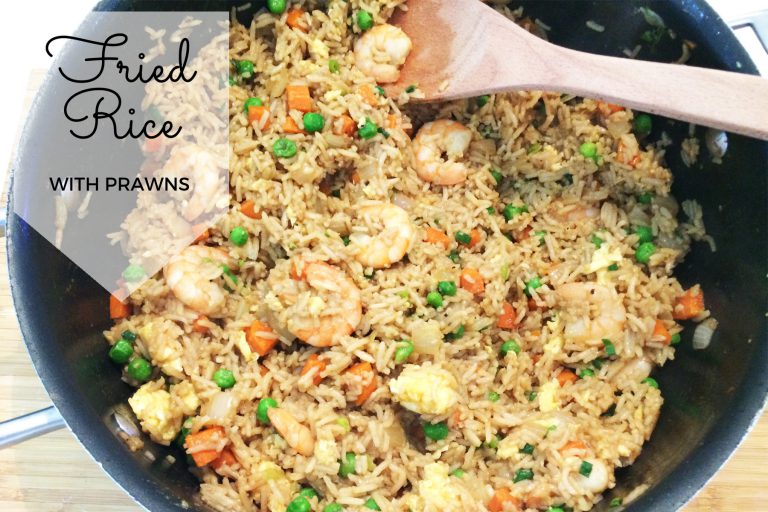 Fried Rice with Prawns Recipe
I thought I'd try something a little different for dinner last night, and opted for fried rice. I hadn't made it before, but it turned out beautifully!
While this meal had a lot of veggies in it, you could easily add plenty more. Think broccoli, capsicum, green beans, cabbage and corn. You could also add leftover barbeque chicken, ham, bacon or pork as well.
I added some prawns which delighted the children entirely as they just can't get enough of them. We had to ration the prawns out evenly, otherwise there'd be lots of arguments at the dinner table. Kids, hey?
Here's what I used to make this meal.
Four cups of cooked rice that has been chilled — this is the only prep you need to do ahead of time. Four cups of cooked rice works out to be 1 1/3 cups of uncooked rice. So get that going a little bit ahead of time and refrigerate it until you're ready to use it.
You'll also need an onion, some garlic, shallots, carrots, frozen peas, two eggs, some butter, salt and pepper, soy sauce, oyster sauce and sesame oil. Plus the prawns!
Now, I know you can buy better prawns than the sad ones sitting in the little round trays at the supermarket deli. But I didn't want to spend a lot of money when they were just going into fried rice for me and the kids on a Monday night. This round of thawed prawns cost me $8, and you know what? They were yummy. 10/10 would buy again. Unless the dearer ones were on special. You know how I like specials.
So you add some butter into a hot frying pan and make up some scrambled eggs first. Remove them onto a plate and add more butter. Hey, I never said this was super healthy, did I? Fry the carrots, onions, peas and garlic until the veggies are tender. Then add the prawns and heat them through.
Add more butter (yes, more), then add the rice, shallots, soy sauce and oyster sauce and stir until combined. Really get that rice frying! Then simply return the eggs to the pan and stir through to break them up, and sprinkle some sesame oil over the mix and stir that through as well.
Carefully ration out each serving so each child gets the exact same amount of prawns (*eyeroll*) and enjoy!
Ingredients
3 tbsp. butter, divided
2 eggs, whisked
2 medium carrots, peeled and diced
1 small onion, diced
1 cup frozen peas
3 cloves garlic, minced
salt and pepper
4 cups cooked and chilled rice (1 1/3 cups uncooked rice)
3 shallots, thinly sliced
3-4 tbsp soy sauce, or more to taste
2 tsp oyster sauce
1/2 tsp toasted sesame oil
Small tray of cooked, peeled prawns
Instructions
Heat 1/2 tablespoon of butter in a large frying pan over medium-high heat until melted. Add egg, and cook until scrambled, stirring occasionally. Remove egg, and transfer to a separate plate.
Add an additional 1 tablespoon of butter to the pan and heat until melted. Add carrots, onion, peas and garlic, and season with a generous pinch of salt and pepper. Sauté for about 5 minutes or until the onion and carrots are soft. Add the prawns and fry for 2 minutes. Increase heat to high, add in the remaining 1 1/2 tablespoons of butter, and stir until melted. Immediately add the rice, shallots, soy sauce and oyster sauce, and stir until combined. Continue stirring for 3 minutes to fry the rice. Then add in the eggs and stir to combine. Add the sesame oil, stir well and remove from heat. Serve.
Notes
Plus cooking and chilling time for the rice, approximately 1 hour
https://mumslounge.com.au/lifestyle/food/fried-rice-prawns-recipe/