Froot Loop Slice Recipe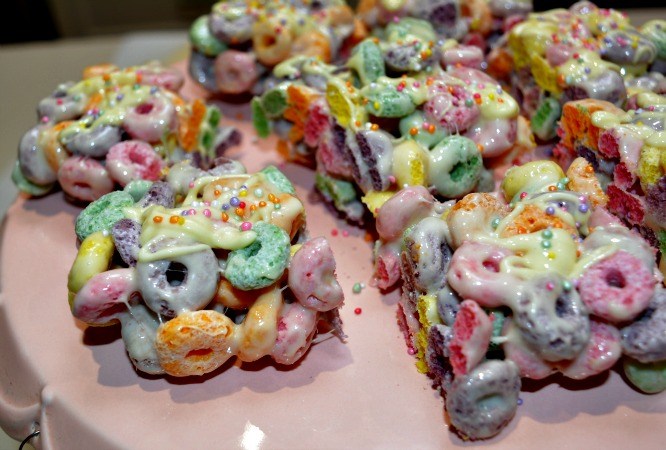 Froot Loop Slice Recipe
I only ever got Froot Loops as a special treat when I was a kid but I would have happily LIVED on them. Actually if I could get away with it, I would probably still eat them for breakfast now; sugary, fruity, crunchy – yum. And I was lying in bed a few months ago thinking about what I was going to cook that day. This is what I do when I wake up early; plan out the cooking. Sad, I know but true and the thought entered my mind that there's Rice Krispie Treats made of rice bubbles, Mars Bars made of Rice Bubbles, why has no one ever come up with a Froot Loop Slice? And I thought maybe for some reason it might not work but I was determined to have a crack at it anyway.
I'd never made Rice Krispie Treats for some reason but I figured the principle would be the same so I investigated the recipe and it's just marshmallow and butter (come to think of it, probably nobody makes these anymore because you can buy them already made in the supermarket, thoughts are rapidly coming to me as I type – hey, what about a slice made from Coco Pops but I think they already exist don't they)? Bummer.
So I bought some store-brand Froot Loops, marshmallows and threw in a block of white chocolate just for the hell of it and set to work. And it was a hit. My husband came in the door just after I'd finished and tried one and said they were fantastic!
These do get really sticky so don't muck about when you're popping them into the tray, then they are good to eat after setting in the fridge for half an hour!
Ingredients
7 cups Froot Loops cereal
250g white marshmallows
30g butter
melted white chocolate & sprinkles to decorate (optional)
Instructions
Generously grease a slice tray and set aside.
Put the froot loops in a large bowl and set aside. In a medium size saucepan, melt the butter and marshmallows together, stirring continuously. As soon as it's melted, pour immediately over the froot loops and gently mix together and working quickly press into the slice tray. Put in the fridge for half an hour to set then slice. If you want to add a bit more bling, drizzle over some melted white chocolate and finish with some sprinkles.
https://mumslounge.com.au/lifestyle/food/froot-loop-slice-recipe/
Carolyn started her blog Pinkpostitnote.com just over a year ago as a way to deal with her obsession of trying new recipes from the copious collection of cookbooks that she owns (and continues to buy). She is particularly fond of "man" food, both cooking it and eating it. She will happily elbow people out of the road at the sight, sound and smell of a pulled pork burger. When she's not lying awake at 5am wondering if she should buy chooks and a cow to deal with the constant need for eggs and butter, she's dealing with all the paperwork associated with owning a bunch of tip trucks and her favorite time of the day is wine five o-clock.