Garlic Sesame Beef Noodles Recipe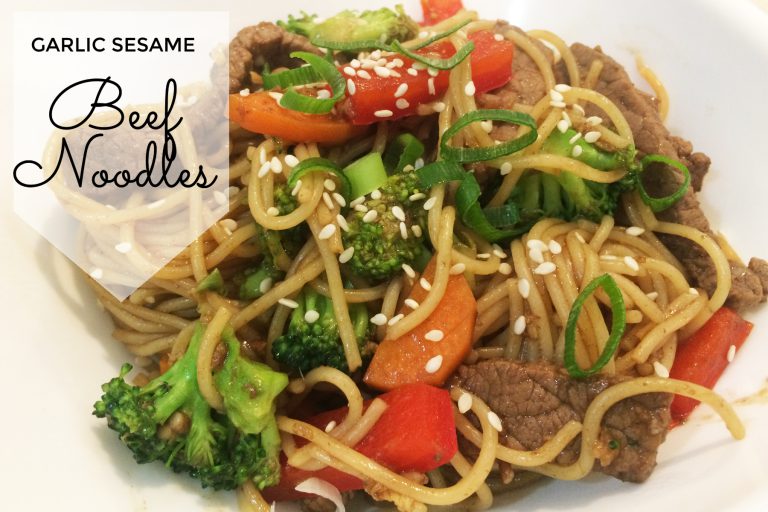 Garlic Sesame Beef Noodles Recipe
I just love trying out new stir fries. I've always been a fan but shortly after I first started making them I met and married my stir fry hating husband and all that came to an end. But now that we have four children and he works shift work, I am able to enjoy them again! Yay!
This recipe for garlic sesame beef noodles has to be one of the very best we've tried. It's packed with loads of flavour and lots of vegetables too. These Chinese egg noodles are the very best and everyone loves them so I buy them in big packets from the supermarket.
Here's what you'll need to make this awesome meal.
A packet of sizzle steaks – I find that it's just easier to buy a packet of these and cut them up than it is to try and find some beef stir fry strips. It probably works out cheaper too. You'll also need some olive oil, soy sauce, sesame oil, oyster sauce, brown sugar, broccoli, capsicum, shallots, garlic, ginger, carrot, sesame seeds and the aforementioned egg noodles.
You may also need some sambal oelek, which I added to my shopping list and duly purchased before realising that it was pretty much pure chillies. As I was serving children, I left it out. You can too if you like.
Make sure you cut everything up and prepare your veggies before you start cooking, as you don't want to be madly chopping carrots at the last minute. Mix your sauce together and cook the noodles all ready to go.
Then it's just a matter of putting it all together – cook the beef in a frying pan or wok, then add the vegetables and fry for a few minutes. Then add the cooked noodles and the sauce and stir to combine and heat through. Done! It's as simple as that.
Garnish with shallots and sesame seeds and you've got a quick, easy and delicious beef noodle dinner on the table in under half an hour.

Garlic Sesame Beef Noodles Recipe
Ingredients
300g egg noodles
1 tablespoon olive oil
1 pkt beef sizzle steaks, sliced
1 capsicum, sliced
1 carrot, thinly sliced
1 head broccoli, cut into florets
1 green onion, thinly sliced
1/2 teaspoon sesame seeds
1/4 cup soy sauce
4 cloves, garlic, minced
2 tablespoon browns sugar, packed
1 tablespoons sambal oelek (ground fresh chili paste), or more, to taste - optional
1 tablespoon oyster sauce
1 tablespoon freshly grated ginger
1 teaspoon sesame oil
Instructions
In a small bowl, whisk together soy sauce, garlic, brown sugar, sambal oelek, oyster sauce, ginger and sesame oil; set aside.
In a large pot of boiling water, add egg noodles and cook for 3-4 minutes; drain well.
Heat olive oil in a large frying pan over medium high heat. Add steak and cook, until browned, about 3-4 minutes; set aside.
Stir in capsicum and carrot to the pan. Cook, stirring frequently, until tender, about 3-4 minutes.
Stir in noodles, broccoli and soy sauce mixture until broccoli is tender and the sauce is slightly thickened, about 3-4 minutes.
Serve immediately, garnished with green onion and sesame seeds.
https://mumslounge.com.au/lifestyle/food/garlic-sesame-beef-noodles-recipe/