Chicken with Creamed Spinach, Bacon and Mushroom Topper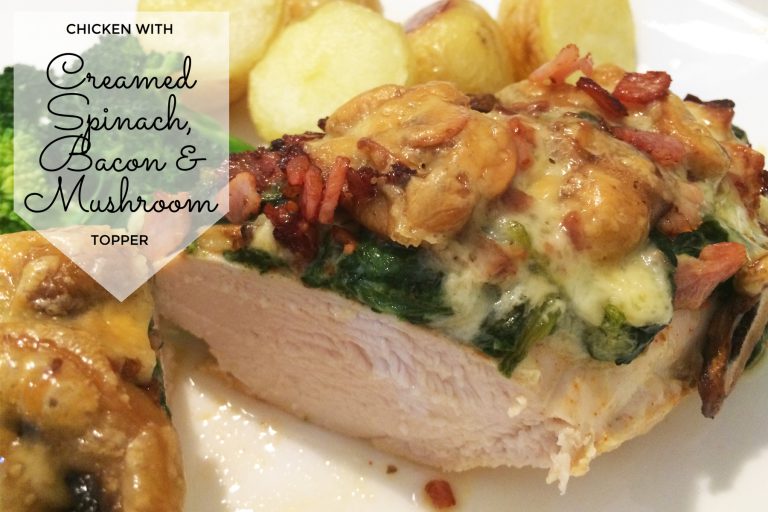 Chicken with Creamed Spinach, Bacon and Mushroom Topper
Juicy, perfectly cooked chicken seasoned with smoked paprika and lemon pepper, topped with creamed garlic baby spinach, crispy bacon and grilled mushrooms with melted cheese on top – can a basic chicken breast fillet get any better? I'm going to say no. This is easily one of the best chicken recipes I've ever made.
While it sounds difficult with lots of different elements in play, this amazing chicken dish is actually fairly easy to put together. And you have lots of time while the chicken is baking to get your toppers ready.
Here's what you'll need:
Chicken breast fillets, bacon, mozzarella cheese, tasty cheese slices, cream, lemon pepper, smoked paprika, salt and pepper, olive oil, baby spinach, garlic and mushrooms. I thought I'd need butter too but I just used olive oil instead.
Season the chicken breast fillets with smoked paprika, lemon pepper and salt and place in a large casserole dish. I used my favourite lasagne-sized porcelain dish. The chicken fit perfectly.
Bake the chicken for twenty minutes then remove from the oven ready to add your toppers.
Making the creamed spinach is easy – just wilt the spinach in a covered frying pan, then add some garlic, cream and grated mozzarella and stir until smooth. Spoon over the chicken breast fillets.

Next, top with your golden crispy bacon…
Then add your grilled mushrooms!
Finally, place some slices of tasty cheese on top. I cut these off the big block of cheese that I have. I wouldn't use individually wrapped processed cheese for this step, but those pre packaged boxes of sliced cheese would work just fine too.
Now bake in the oven for another twenty minutes until your chicken looks like this!
Serve with roasted potatoes and steamed vegetables for a restaurant quality meal that you'll want to make again and again.
The topper seals in the moisture in the chicken, preventing it from drying out and resulting in the most juicy tender chicken breast you'll ever eat. Seriously, this dish is amazing! Give it a try! Even our children enjoyed it!
Chicken with Creamed Spinach, Bacon and Mushroom Topper
Ingredients
Oil spray
4 chicken breasts fillets
salt
lemon pepper seasoning
smoked paprika
2 tbsp olive oil
280g baby spinach
4 garlic cloves, minced
2/3 cup pouring cream
2/3 cup mozzarella cheese, shredded
200g mushrooms, sliced
4 rashers bacon, diced
4 tasty cheese slices
Roast potatoes and steamed vegetables to serve
Instructions
Preheat the oven to 190 degrees. Pan fry bacon until golden and remove to a bowl.
Spray the bottom of a lasagne-sized baking dish with oil. Season chicken breasts on both sides with salt, lemon pepper seasoning and paprika and place side by side in casserole dish. Bake for 20 minutes.
Meanwhile, heat 1 tablespoon vegetable oil in the frying pan on medium heat. Add spinach and cook, covered, for 1 or 2 minutes, until the spinach has wilted. Add minced garlic and cream and bring to the boil. Add shredded mozzarella cheese and stir until it starts to melt. Reduce heat to simmer and keep stirring for 2 minutes until smooth and creamy.
In a separate pan, heat 1 tablespoon vegetable oil. Add sliced mushrooms and cook on high-medium heat for 1-2 minutes until mushrooms are golden.
Remove the chicken breasts from the oven and top each chicken breast with the creamed spinach, chopped cooked bacon, cooked mushrooms and broken slices of tasty cheese. Bake in the oven, uncovered for 20 more minutes, until chicken is cooked through. Serve with roast potatoes and steamed vegetables
https://mumslounge.com.au/lifestyle/food/chicken-creamed-spinach-bacon-mushroom-topper/