Home-Made Devilled Sausages Recipe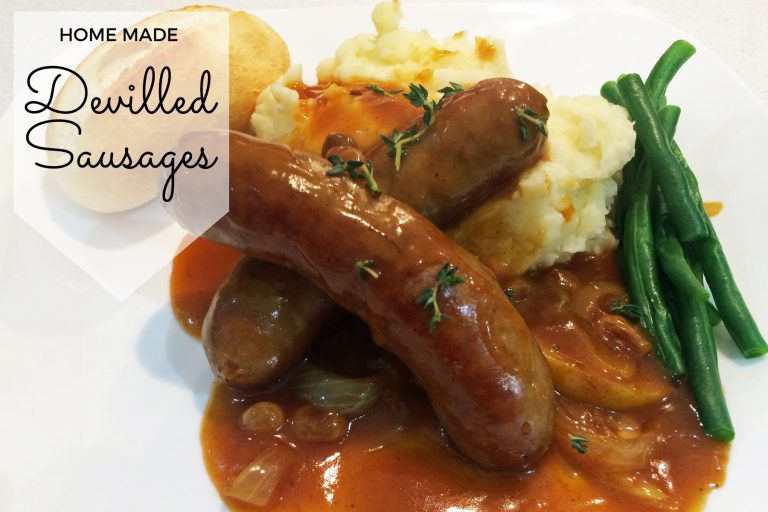 Home-Made Devilled Sausages Recipe
Stop buying packet mixes with this fabulously easy home made devilled sausages recipe.
That's the hardest part of breaking away from the recipe bases aisle at the supermarket – finding a good make at home substitute for our favourite meals that tastes just as good without breaking the bank. I've found this excellent recipe for devilled sausages that I will make for my family again and again.
You will need the following ingredients.
Let's start with all the things you'd be asked to add to a packet mix – sausages, olive oil, an onion, a pear (!), some tomato sauce and sultanas. Now here are the recipe base ingredients – curry powder, Worcestershire sauce, ground cumin, ground coriander, corn flour and brown sugar. Not so scary when you put it like that!
This recipe is just as easy as using a packet mix, you just mix the seasonings yourself instead of opening the packet. Cook the sausages and then add your chopped onions and pear, just the same as you would normally. Combine the tomato sauce, cornflour, Worcestershire sauce, spices and brown sugar with two cups of water, then whisk to mix well. That's the recipe base element right there.
Finally, pour it all in your big frying pan with the sultanas and allow it to simmer (covered) for ten minutes. Devilled Sausages from scratch.
Looks just the same, right? Tastes sort of similar but much nicer. And the sweet and spicy pear is the very best part!
Serve with lots of creamy mashed potato and some of your favourite steamed seasonal vegies and there you have it. A home made meal, cooked from scratch without any of the artificial colours or preservatives of a packet mix. And you can make sure it is gluten free too, if you need to.
Home-Made Devilled Sausages Recipe
Ingredients
olive oil
8 quality beef or pork sausages
1 onion, halved, sliced
1 fresh pear, cored, sliced
¼ cup tomato sauce
2 tbsp cornflour
2 tbsp Worcestershire sauce
1/2 tsp curry powder
1/2 tsp ground cumin
1/2 tsp ground coriander
1 tsp brown sugar
¼ cup sultanas
Instructions
Heat the oil in a large frying pan and cook the sausages for 4-5 minutes over a low to medium heat until browned. Add the onions and pear, then cook for a further 2 minutes. Drain off any excess oil.
Combine the tomato sauce, cornflour, Worcestershire sauce, spices and brown sugar with 2 cups of water, then whisk to mix well.
Add the sultanas, then pour the sauce mix into the pan and mix well. Cover and simmer gently for 8-10 minutes, stirring occasionally until the sausages are cooked and the sauce thickens.
Serve the sausages with mash and veggies, garnished with fresh thyme.
https://mumslounge.com.au/lifestyle/food/home-made-devilled-sausages-recipe/