Ferrero Rocher Ice Cream Cake Recipe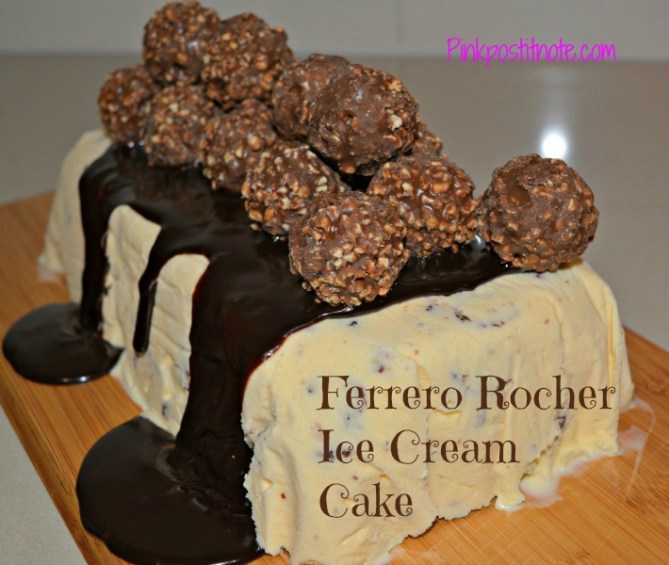 Ferrero Rocher Ice Cream Cake Recipe
Who wants a super easy, cheaty-cheaty-McCheat Face dessert?!?!? I do! I do! Not only is it super easy it looks really impressive and if you love hazelnuts and chocolate then you will absolutely love this. And of course you can make this AGES in advance and then just whip it out all impressive-like last minute and be all ta-da and no one will know this didn't take you hours and hours and the use of an expensive ice cream maker to boot. Just store-bought vanilla ice cream with some Frangelico mixed through (more hazelnut flavour), a super easy chocolate sauce made from Nutella and Milk and of course some Ferrero Rochers; some chopped and mixed through the ice cream and some on top to decorate!
Make sure the sauce is cool before you pour it over or you will have an ice cream puddle!
2 litres vanilla ice cream, softened
2 tbsp. Frangelico liqueur
400g Ferrero Rocher chocolates, half of them chopped
160g (1/2 cup) chocolate hazelnut spread
60ml (1/4 cup) milk
Line a 10 x 20cm loaf pan with non-stick baking paper, allowing the sides to overhang.
Combine ice cream and Frangelico in a large bowl. Add the chopped Ferrero Rochers and gently mix through. Spoon into the prepared pan. Smooth the surface with the back of a spoon. Cover with cling wrap and place in the freezer for 6 hours or until set.
Combine chocolate hazenelnut spread and milk in a small saucepan over low heat. Cook, stirring, for 2-3 minutes or until the spread melts and the mixture is smooth. Remove from heat and cool for around 15 minutes.
Turn the ice cream cake out onto a serving platter. Drizzle with the sauce and decorate with the remaining Ferrero Rocher. Serve immediately.
Ferrero Rocher Ice Cream Cake
Ingredients
2 litres vanilla ice cream, softened
2 tbsp. Frangelico liqueur
400g Ferrero Rocher chocolates, half of them chopped
160g (1/2 cup) chocolate hazelnut spread
60ml (1/4 cup) milk
Instructions
Line a 10 x 20cm loaf pan with non-stick baking paper, allowing the sides to overhang.
Combine ice cream and Frangelico in a large bowl. Add the chopped Ferrero Rochers and gently mix through. Spoon into the prepared pan. Smooth the surface with the back of a spoon. Cover with cling wrap and place in the freezer for 6 hours or until set.
Combine chocolate hazenelnut spread and milk in a small saucepan over low heat. Cook, stirring, for 2-3 minutes or until the spread melts and the mixture is smooth. Remove from heat and cool for around 15 minutes.
Turn the ice cream cake out onto a serving platter. Drizzle with the sauce and decorate with the remaining Ferrero Rocher. Serve immediately
https://mumslounge.com.au/lifestyle/food/ferrero-rocher-ice-cream-cake/