Creamy One-Pan Bacon & Sun-Dried Tomato Chicken Recipe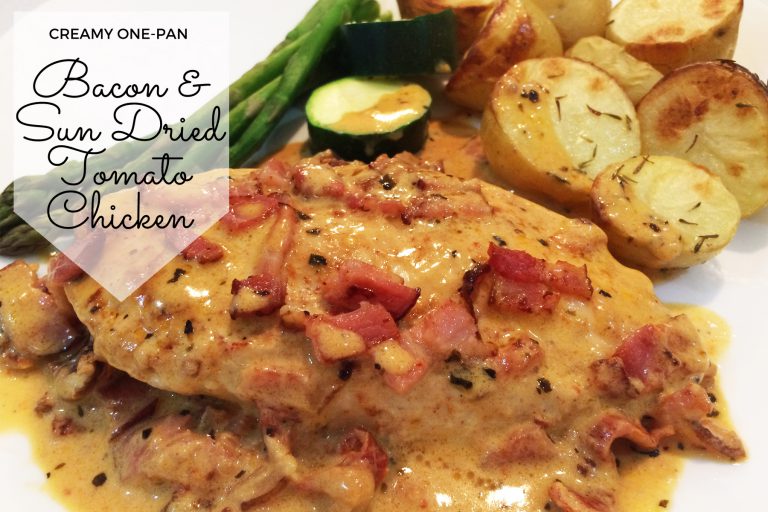 Creamy One-Pan Bacon & Sun-Dried Tomato Chicken Recipe
I know what you're thinking – this creamy bacon and sun-dried tomato chicken recipe seems too good to be true, right? Well, it kinda is. You cook it in one pan, it's pretty easy to prepare, it makes one of the most economical meats taste absolutely amazing, and it can be on your table in thirty minutes.
Don't believe me? Let's go. I'll show you.
First up, here are your ingredients, nothing too flash here. Just normal everyday supermarket supplies.
Chicken breast fillets, bacon, cheese, cream, milk, sun dried tomatoes in oil, garlic, olive oil (but I didn't end up using it), salt and pepper, chilli flakes, dried basil and paprika. Easy.
Chop your bacon into small pieces and saute them in a big frying pan on medium heat. When they're cooked, remove them to a plate and add the garlic, sun dried tomatoes and some of the oil from the sun dried tomatoes jar.
On a side note, most of my recipes contain full fat cream, oil, butter etc and usually involve wine and dessert too. I don't eat like this every night, and I believe everything is perfectly fine in moderation. Point is – don't skimp on the sun dried tomato oil and try and cook this meal with something "healthier". The flavour won't be there and you only live once. Use the sun dried tomato oil. If the fat content is bothering you, have a salad for lunch tomorrow. 🙂
Slice the chicken horizontally to make four chicken steaks. Dust them with some paprika for flavour and colour.
Add them to the pan and cook for about 5 minutes each side or until cooked through.
When cooked, remove the chicken to a plate and add cream, milk and cheese to the pan with crushed dried chilli flakes, basil and salt and pepper to taste.
I like to crush my dried chilli flakes in a mortar and pestle before adding them to sauces like this as I'm afraid one of my children will munch on one whole. You don't have to crush them up finer if you like. And the dish isn't too spicy either, the chilli just adds a nice warm flavour.
Simmer the sauce for a little while until slightly thickened, then return the chicken to the pan. Then sprinkle bacon over the top and heat it all for a few minutes until the chicken is warmed through.
Serve with roasted baby potatoes (or oven fries, who's judging) and steamed vegetables.
Easy peasy!
Creamy One-Pan Bacon & Sun-Dried Tomato Chicken Recipe
Ingredients
4 large garlic cloves, minced
1 small jar (280g) sun-dried tomatoes including oil
Paprika to dust
2 large chicken breasts, halved horizontally
1 cup cream
½ cup milk
1 cup grated tasty cheese
salt and pepper, to taste
1 teaspoon dried basil
¼ teaspoon chilli flakes, crushed in a mortar and pestle if you can
4 rashers of bacon, chopped
Steamed vegetables and roast potatoes to serve
Instructions
In a large frying pan, on medium heat, cook the bacon until crisp and golden. Remove to a plate, and sauté garlic and sun-dried tomatoes in 3 tablespoons of oil reserved from the sun-dried tomatoes jar for 1 minute or until garlic is fragrant.
Sprinkle paprika on both sides of the chicken breast fillets and cook on medium heat for about 5 minutes on each side or until cooked through.
Remove the chicken to a plate and add the cream and milk to the pan, whisking to combine with pan juices. Add the cheese and continue to stir while it melts. Add the dried basil and chilli flakes and allow to simmer gently for 5 minutes or until thickened slightly.
Return the chicken to the pan and turn to coat in the sauce. Top with crumbled bacon and reheat until warmed through. Serve with steamed vegetables and roast potatoes.
Notes
I prefer to crush chilli flakes in a mortar and pestle before adding to this dish, but you certainly don't have to do this step. Personally, I feel the flakes are a bit big and chunky and I don't like the thought of one of my little people chomping on one whole so I crush them up a bit first.
The chilli in this meal is not strong, but it does add a good flavour to the dish.
https://mumslounge.com.au/lifestyle/food/creamy-one-pan-bacon-sun-dried-tomato-chicken-recipe/