Honey Mustard Chicken Drumsticks Recipe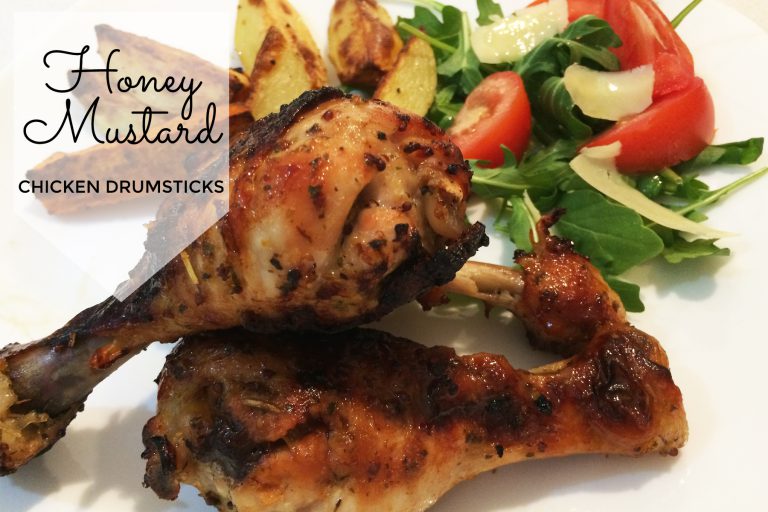 Honey Mustard Chicken Drumsticks Recipe
My family just love chicken drumsticks, and I have to say — so do I!
They are one of the cheapest cuts of meat available, you can make them a tonne of different ways, they are super easy to serve up with some oven fries and a salad, and everyone goes nuts when they hear that there are drummies for dinner!
I've made chicken drumsticks several ways in the past –  but you can't beat a simple honey mustard marinade for finger licking goodness.
Here is my go-to recipe for this cheap and cheerful family meal.
Combine honey, crushed garlic, dried Italian herbs and wholegrain mustard in a bowl. Place chicken drumsticks in a ceramic baking dish (think lasagne-sized) and pour the honey mustard mixture over the top. Turn the chicken to coat on all sides.
Next, cut some potatoes and sweet potatoes into wedges and place them on a baking paper-lined tray. Drizzle with olive oil and season with salt and pepper then turn to coat.
Bake the chicken and wedges in the oven for 55 minutes, turning halfway, until the chicken is golden and cooked through and the vegetables are tender.
Serve with a simple salad for a complete meal.
You could prep this meal ahead of time and freeze ready to bake another day — complete the chicken preparation up until the baking part and place marinated chicken in a ziplock bag (with excess air squeezed out) then freeze for up to three months. Then just thaw the frozen bag overnight and complete the recipe,
I hope you enjoy this meal as much as we do!
Honey Mustard Chicken Drumsticks Recipe
Ingredients
1/4 cup honey
2 garlic cloves, crushed
2 teaspoons dried Italian herbs
1 1/2 tablespoons wholegrain mustard
1.5 kg chicken drumsticks
500g potatoes, cut into wedges
500g orange sweet potato, peeled, cut into wedges
1 tablespoon olive oil
Salad to serve
Instructions
Preheat oven to 200°C/180°C fan-forced. Place honey, garlic, herbs and mustard in a bowl and mix well to combine. Place drumsticks in a single layer in a ceramic baking dish. Pour honey mixture over the top and turn to coat.
Line a baking tray with baking paper. Place potato and sweet potato on prepared tray and drizzle with oil. Season with salt and pepper and toss to coat. Bake chicken and potato for 55 minutes or until chicken is golden and cooked through and vegetables are tender, turning both halfway through cooking.
Serve chicken drumsticks and roasted potato wedges with a green salad for a full meal.
https://mumslounge.com.au/lifestyle/food/honey-mustard-chicken-drumsticks-recipe/