Hot Cross Cupcakes Recipe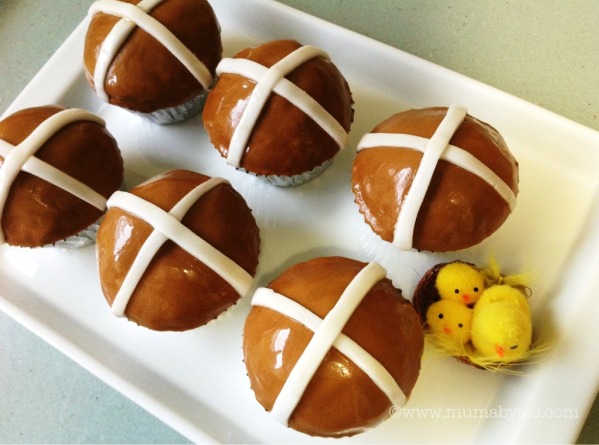 HOT CROSS CUPCAKES
Not everyone loves hot cross buns, but most people like cake. These hot cross cupcakes recipe should keep most people happy at your Easter party. Use whatever cake flavour you like – mid cake is always a hit with the kids.
The fondant preparation for these is simple. You will have to colour some white fondant with brown colouring to achieve the traditional bun colour, but it is not a difficult task.
For the cake:
A batch of cupcakes using your favourite cake mix, whether store-bought (cheaper and quicker) or homemade (usually always yummier!).
Buttercream:
(buttercream goes underneath fondant, it acts as a glue)
125 g butter, softened
1 1/5 cups icing mixture
2 tbsp milk
Fondant:
1 packet of ready-to-roll white fondant. I always buy the Orchard pack, around $4 at Woollies & Coles.)
"Brown" gel food colouring ($4.95 at General trader)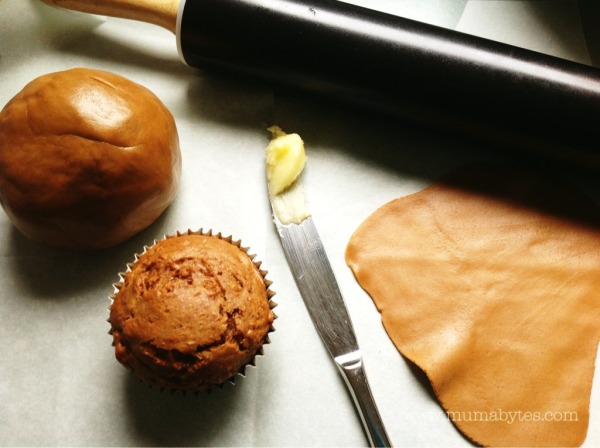 Glaze:
1 tsp vodka (or other spirit/liqueur)
2-3 tbsp corn syrup or agave syrup (or something similar)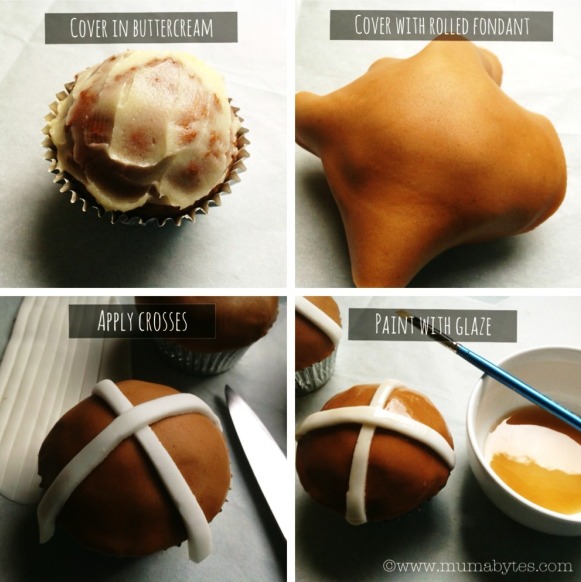 Method:
1. Prepare the cupcakes and make sure they have cooled to room temp.
2. Unwrap your white fondant. Slice off 1/4 of it, wrap it tightly in cling wrap and set aside at room temp. This is what you will use for the crosses.
3. With the remaining 3/4 of fondant, knead it until malleable then dip a knife into the brown colouring and dot it all over the fondant. Use your hands to work the colour into the fondant until you achieve the desired level of brown. It takes a bit of kneading, so stick with it. When done, wrap it tightly in cling wrap and set aside at room temp.
4. Beat the softened butter until pale and creamy and then add the icing sugar and half of the milk. Add the remaining milk as you need it. You want a thick, creamy buttercream icing.
5. Ice all of the cupcakes in a layer of buttercream.
6. Unwrap the brown fondant and pull off a small amount before re-wrapping. On a piece of baking paper, use a rolling pin to roll out the fondant into a circle, not too thick. Drape it over a cupcake, pressing into place, and trim the edges with a sharp knife. Do the same with all the cupcakes.
7. Use the white fondant to roll out a flat piece and cut long strips for the crosses, trim the excess.
8. To make the glaze, combine the corn syrup and vodka in a small dish. Use a paintbrush to apply the syrup over the fondant. Do this for all of the cupcakes. You're done!
Total Time: 2 hours
Difficulty: Easy
Author: Katie from Mumabytes (http://www.mumabytes.com)
Katie is a full-time mum and blogger at Mumabytes. A Melbourne girl, she never says no to chocolate, and loves to share her ramblings about all things motherhood.