Slow Cooker Mexican Beef Risotto Recipe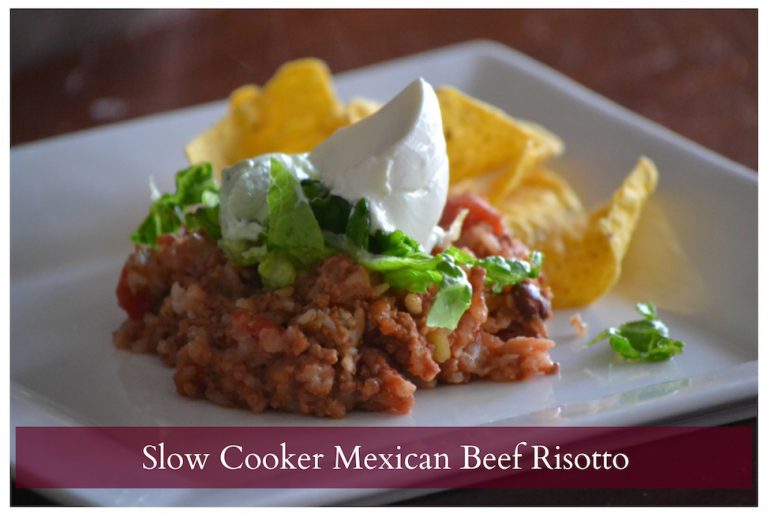 When I was a little girl, I used to love spending time with my Dad in the kitchen.  He worked as a chef on the oil rigs often away for weeks at a time, so I used to relish every moment he was home, and I have fond memories of rolling out pastry, and kneeding dough whilst fresh bread rolls cooked in the oven and a hearty stew simmered on the stove.
One of the things I loved about the way my Dad cooked, is that he was never afraid to experiment, and try out new things.  I never once saw him referring to a recipe cook.  He instinctively knew his way around his ingredients and cooked from the heart, and no two meals were ever the same.
This is no doubt were I got my 'let's-try-it-and-see' cooking style from!
Yesterday I decided to try a risotto in the slow cooker.  I must admit, as much as I love a good risotto, it is the kind of labour intensive recipe that I don't generally find enough time for these days.
How did I make it to 35 years old without knowing you could cook risotto in the slow cooker?  Granted, this isn't the kind of recipe you can pop on in the morning and come home to 8 hours later – unless you like gloop – but it is a great recipe if you are hanging out at home for the day.
Slow Cooker Mexican Beef Risotto Recipe
Ingredients
500g lean mince beef (I especially recommend lean if you are adding it into the slow cooker raw as I do.  You don't want all that fat floating around in your risotto!)
1 litre beef stock
2-3 cups of aboria rice
Finely chopped veggies (use whatever you have!  I used red capsicum, celery)
1 tin of kidney beans
1 tin of chopped tomatoes
2 garlic cloves (you can of course add as much or as little as you like).
1 packet of Old El Passo Burrito seasoning mix
To serve:
Your choice of:
Finely chopped lettuce
Sour cream
Guacamole
Corn chips
Method:
Really, it couldn't get any simpler.  Add all ingredients to your slow cooker, cover and cook on low for approx 4 hours (or until the rice is cooked through, but not mushy.)
Bon appétit!