Italian Beef & Potato Stew Recipe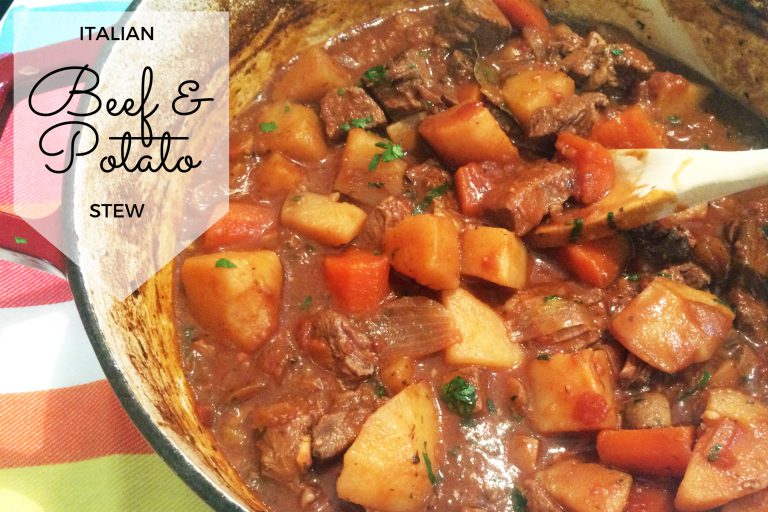 Italian Beef & Potato Stew Recipe
There's nothing like the smell of a hearty winter stew wafting through your home on a cold evening, and this Italian beef and potato stew is one of the very best ones I have ever made. Juicy, fall-apart pieces of beef, chunks of potatoes, carrots and mushrooms in a flavoursome Italian broth. You can't go wrong with this one, everyone will love it, young and old alike.
Prepare it on the stove top and pop it in the oven to bake for an hour and a half or cook it in your pressure cooker for 35 minutes instead. Serve your delicious stew with rice or pasta and loads of fresh, crusty bread to mop up the juices.
Italian Beef & Potato Stew Recipe
Ingredients
1kg casserole or chuck steak
2 tablespoon olive oil
1 medium onion, chopped
2 cloves of garlic, minced
2 cups of beef stock
½ cup red wine
1 can of chopped tomatoes.
2 carrots, peeled and cut in medium-sized pieces
2 medium-sized potatoes, peeled and cut in medium-sized pieces
200g mushrooms, halved
1 teaspoon of dried Italian herbs
1 bay leaf
2 tablespoons chopped parsley
Instructions
1. Preheat oven to 180°C
2. Heat a heavy based-pan over medium-high heat. Add a little oil and brown meat on all sides then remove from pan and set aside.
3. Turn down heat to medium, add a little more oil, and brown onions until translucent, about 5 minutes. Add garlic at the last minute of cooking.
4. Return the meat to the pot and add the stock, wine and tomatoes. Bring to a simmer and cook until beef is tender, about 1 ½ hours.
5. When the beef is tender, add the potatoes, carrots and mushrooms, and cook at a simmer until the potatoes and carrots are tender.
6. Add fresh herbs and serve with pasta or rice and crusty bread.
https://mumslounge.com.au/lifestyle/food/italian-beef-potato-stew-recipe/