Keen's Sweet and Sour Mustard Relish & Balsamic Onion Relish Recipes PLUS GIVEAWAY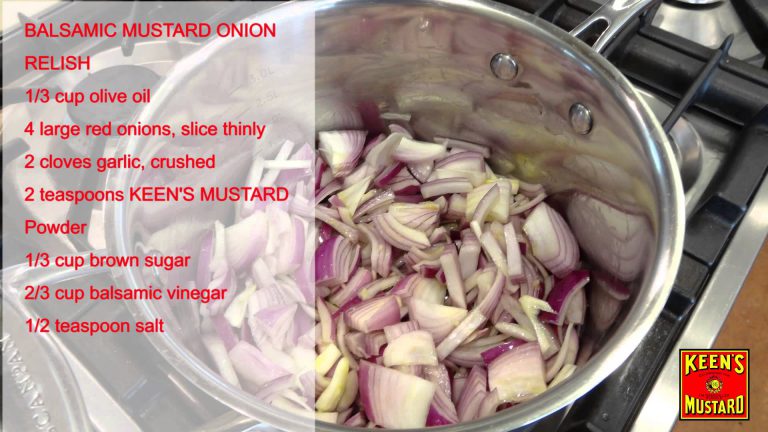 Sponsored post
If you love fresh home-made relish you are going to love this 2-in-one recipe. With a small tweak after making the sweet mustard pickle, you can have a delicious balsamic onion variation in no time at all!
Sweet and Sour Mustard Pickle
Ingredients
2 ltrs water
½ cup salt
½ cauliflower
4 large white or brown onions
1 cucumber
750mL Apple Cider vinegar
½ cup cornflour
2 cups white sugar
1 Tbs Keen's Mustard Powder
½ Tbs Keen's Curry Powder
½ Tbs ground turmeric
Combine water and salt in large pot.
Finely chop cauliflower, onions and cucumber. Add to salt water and mix well.
Heat mixture, cook vegetables until tender, then drain.
Put vegetables back into pot with the vinegar, sugar, Keen's mustard powder, Keen's curry powder and ground turmeric.
Bring to the boil and simmer for approximately 20 minutes. Add cornflour mixed with a little water and simmer until thick.
Method
· Take half of the Sweet Mustard Pickle base (as above) and add to another saucepan.
· Add grated rind of 2 lemons
· Juice of 2 lemons
· 1 medium capsicum diced
Simmer over medium heat until capsicum if soft. Serve cooled.
Balsamic Mustard Onion Relish Recipe
Ingredients
1/3 cup olive oil
4 large red onions, thinly sliced
2 cloves garlic, crushed
2 tsp Keen's Mustard Powder
1/3 cup brown sugar
2/3 cup balsamic vinegar
½ tsp salt
Method
Over medium heat, cook red onions in olive oil until soft.Add all other ingredients and the Keen's
Mustard Powder and bring to the boil.
Turn down heat to a slow simmer.
Reduce until volume is halved or to desired thickness.
Great for so many Springtime dishes and there's many more recipe ideas on Keen's Australia Facebook page and the website.
Giveaway
Springtime and Keen's Mustard just go together! And Keen's Mustard is giving you the chance to really get out and enjoy the season with the chance to win an Outdoor Setting with Orla Kiely cushions, and a Keen's Mustard package valued at over $600.
To enter complete the entry form below.  Good luck!
a Rafflecopter giveaway