Make Your Own Christmas Baked Gifts – Blondie Jars and Gingerbread Cookies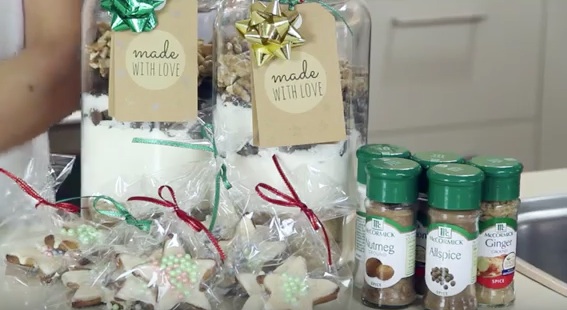 Ideas for Christmas Baked Gifts
Giving Christmas gifts to friends and family needn't break the bank.  In fact there is something incredibly special about giving and receiving a homemade baked gift to show someone you care.  These gingerbread cookies and blondie jars are so easy to make – and they look and taste fabulous too.
Blondie Jars Recipe
Preparation time: 10 minutes
Serves: 10
Baking Time: 35 minutes
In a 1.6 Lt Jar (or bigger, but not smaller) add the following dry ingredients in layers:
1.5 cups Brown sugar
2 cups Plain flour
½ Tsp Baking Powder
¼ Tsp Salt
1 Cup Choc Buttons (white or milk depending if you want blondies or brownies)
1 Cup Desiccated Coconut
½ cup raisins
1 Cup chopped Walnuts
Close lid and decorate with your favourite Christmas ribbons and decorations.
The Recipients only needs to add 3 ingredients!
3 large eggs
1 Tsp Vanilla Essence
½ cup butter
I like to write a recipe card for each jar explaining these ingredients and what they'll need to add to make the blondies/brownies.
Tie your recipe car to the jar with your decorations.
Method to include on your recipe card:
Preheat oven to 175 degrees Celsius.
Grease and line a slice pan.
In a large bowl add the 3 eggs, vanilla essence and butter and beat together.
Mix in the contents of the jar to combine.
Pour mixture into a square pan.
Bake for 35 minutes until golden.
Cool and cut into squares to serve.

Gingerbread cookies
Prep Time: 10 minutes plus approximately 20 minutes chilling time for the dough.
Cooking Time: 10 minutes
Icing preparation and decoration: 15 minutes
Ingredients:
3 cup plain flour
120 g butter chopped
2 tsp bicarbonate of soda
1/2 tsp ground cloves
2 tsp ground ginger
1/3 cup brown sugar
1/2 cup golden syrup
1 egg
2 tsp ground cinnamon
1 teaspoon bicarbonate of soda
Method:
Preheat oven 160 degrees C.
Combine ingredients in a large bowl.
Knead until smooth.
Roll between 2 sheets baking paper until approximately 2.5 cm thick.
Refrigerate until chilled.
Place chilled dough on bench and cut out shapes.
Place on baking paper-lined tray.
Bake for 10 minutes until slightly golden.
Ice when cool.
Icing your Gingerbread Cookies:
1 egg, separated
150g (1 cup) pure icing sugar, sifted
(Food colouring if desired)
Cachous in festive colours, or other lollies to decorate.
Place egg white in a clean, dry bowl. Use an electric beater to beat until soft peaks form. Gradually add icing sugar and beat until stiff peaks form.
With cooled cookies, dip the entire top into the icing. Let excess drip away.
Place iced cookies on a plate or board and sprinkle with your favourite cashous or festive lollies.
Set aside for approximately 15 minutes until icing is hard.
Wrap in cellophane bags and dress with festive ribbons.
For more great festive inspired recipes, check out:
Quick Christmas Desserts: Berry Ice-Cream Cake and Gingernut Parfait