Macadamia Christmas Ham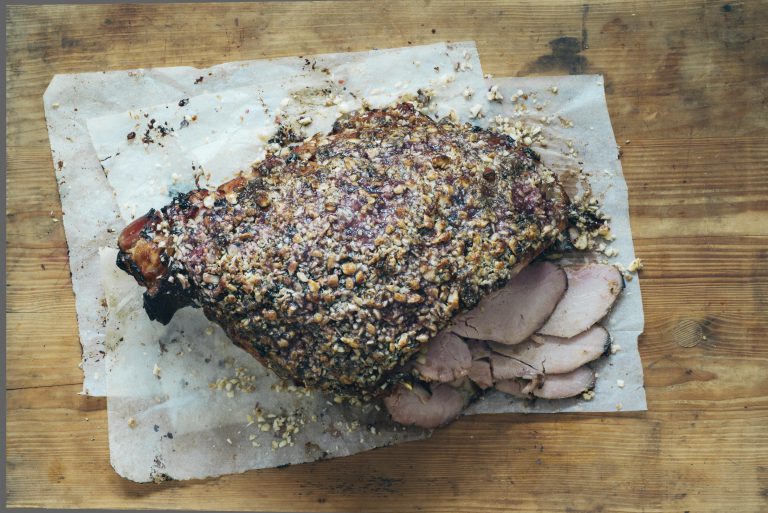 Macadamia Christmas Ham
Ingredients
7-8kg leg of ham on the bone
1/2 cup ginger marmalade
100g brown sugar
1 tablespoon Dijon mustard
1/4 cup macadamia butter*
1/4 cup Davidson Plum chili sauce (or sweet chilli sauce)
150g macadamias, finely chopped
Instructions
Preheat oven to 180°C, fan-forced. Position an oven shelf in the
lowest position and remove all the other shelves.
Use a small sharp knife to cut around the ham shank (end of the leg) in a zigzag pattern 10cm from
the end. Carefully remove the skin from the ham in 1 piece by running the knife and score the fat in
a diamond pattern. Place the ham in a baking dish lined with several layers of non-stick baking
paper.
Combine the marmalade, sugar, mustard, macadamia butter and chilli sauce in a small saucepan and
stir over a low heat until the marmalade melts. Brush the ham with half the marmalade glaze to
evenly coat. Bake in the oven for 50-60 minutes or until golden brown.
Press the macadamias firmly onto the ham and brush with remaining glaze. Bake for a further 15
minutes or until nuts are lightly toasted. Remove from the oven and set aside for 15 minutes to rest
before carving.
https://mumslounge.com.au/lifestyle/food/macadamia-christmas-ham/
*Macadamia butter is available at some farmers markets, specialty stores or it is easy to make your
own, see the recipe at australian-macadamias.org