Meatloaf, Mash and Veggies with Gravy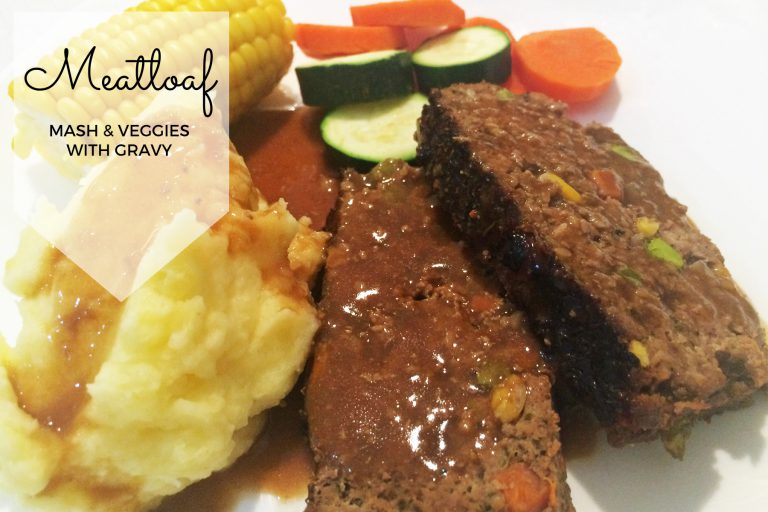 Meatloaf, Mash and Veggies with Gravy
Who doesn't love a good meatloaf? This classic family fare is extra yummy when served up with creamy mash potato and your favourite veggies and absolutely smothered in your own rich gravy.
I have found that buying meatloaves at the supermarket and the butchers to be a bit hit and miss over the years. Many of them are made with cheap, fatty sausage mince and aren't all that healthy or appetising. So making your own makes a lot of sense. And it's not hard, just mix a whole heap of pantry and freezer staples together and pop in the oven!
A little word of advice though – mix your meatloaf ingredients together thoroughly before adding your frozen veggies to the mix, otherwise your hands will be well and truly frozen themselves by the time you've finished combining all the ingredients!
Meatloaf, Mash and Veggies with Gravy
Ingredients
1 kg mince
1 small onion, finely diced
3 cloves of garlic, crushed
1 tablespoon dried parsley
2 beef Oxos
2 tablespoons BBQ sauce
1 egg
½ cup frozen peas, carrots and corn mix
1 teaspoon Masterfoods Pizza Topping seasoning
½ teaspoon Masterfoods onion salt seasoning
For the gravy:
2 more beef Oxos
1 tablespoon of plain flour
Instructions
1. Preheat oven to 180°C.
2. Mix mince, onion, garlic, parsley, 2 beef Oxos, BBQ sauce and egg together until well combined. Add the frozen vegies and mix through. Place meatloaf mix into loaf tin and sprinkle with pizza topping and onion salt seasonings. Bake in the oven for 1 hour and twenty minutes.
5. When cooked through, remove from loaf tin and place on a plate and cover with foil. Add the cooking juices to a saucepan and set on a medium high heat. Dissolve beef oxos in 500mls of hot water. Place 1 heaped tablespoon of flour into the saucepan and whisk to combine. Slowly add the beef stock a little at a time while constantly stirring. Season with salt and pepper and allow to simmer gently,
3. Serve your meatloaf with mashed potatoes and veggies and smothered in gravy.
https://mumslounge.com.au/lifestyle/food/meatloaf-mash-veggies-gravy/