One Pot Cheesy Chilli Pasta Recipe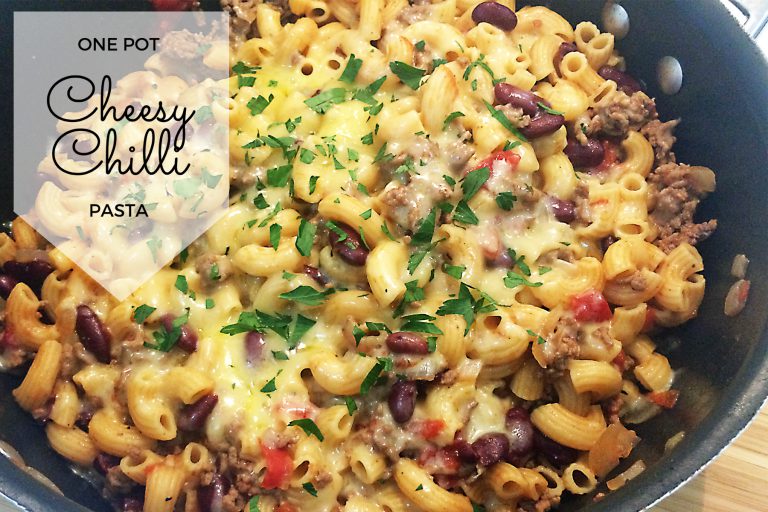 One Pot Cheesy Chilli Pasta Recipe
I love a good one-pot recipe, and this one really takes the biscuit. Cheesy, chilli pasta with mince, tomatoes and kidney beans — ready in just half an hour! You can't ask for much more than that!
This recipe makes about six servings, so it's fabulous for a large family or for those of us who love eating leftovers for lunch the next day when no one else is around to ask for any. It's like my dirty little secret! Don't tell anyone!
Here's what you'll need to make this fantastic pasta.
Olive oil, an onion, some garlic, beef mince, chicken stock cubes (might try it with beef next!), a tin of tomatoes, a tin of red kidney beans, ground cumin, ground chilli, salt and pepper, elbow pasta, grated cheese and continental parsley (as always, optional!).
First, you'll need to pop some oil in a large, heavy-based pan and saute your chopped onions and garlic. Add the mince and break up with a spoon as it browns. Then add the stock, tomatoes, kidney beans, salt, pepper, chilli and cumin and bring to a simmer. Stir through 300g of uncooked pasta elbows, place the lid on and cook for about 15 minutes.
When the pasta is cooked, remove the pot from the heat, top with grated cheese and replace the lid. Allow the cheese to melt on top of the pasta until it is all gooey and yum. Then sprinkle with chopped parsley and serve immediately!
I hope your family enjoys this as much as mine did!
One Pot Cheesy Chilli Pasta
Ingredients
1 tbsp olive oil
2 cloves garlic, minced
500g beef mince
4 cups chicken stock
1 tin diced tomatoes
1 tin red kidney beans, drained and rinsed
2 tsp chili powder
1 1/2 tsp cumin
salt and freshly ground black pepper, to taste
300g elbow pasta
1 cup grated cheese
2 tbsp chopped fresh parsley leaves
Instructions
Heat olive oil in a large heavy based pan over medium high heat. Add garlic, onion and mince, and cook until browned, about 3-5 minutes, making sure to crumble the beef as it cooks.
Stir in chicken stock, tomatoes, beans, chili powder and cumin. Season with salt and pepper, to taste. Bring to a simmer and stir in pasta. Bring to a boil; cover, reduce heat and simmer until pasta is cooked through, about 13-15 minutes.
Remove from heat. Top with cheese and cover until melted, about 2 minutes.
Serve immediately, garnished with parsley.
https://mumslounge.com.au/lifestyle/food/one-pan-cheesy-chilli-pasta-recipe/