Pesto Chicken BLTs on Turkish Bread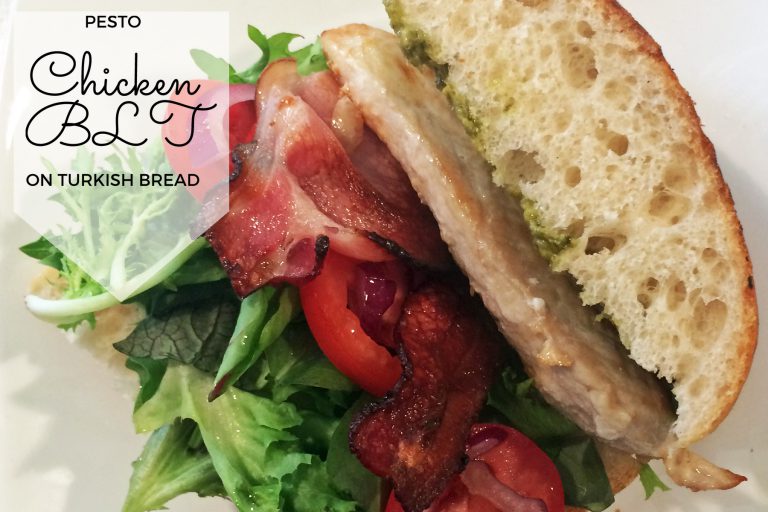 Pesto Chicken BLTs on Turkish Bread
No need to grab expensive takeaway burgers for dinner when you can make these delicious pesto chicken BLTs on Turkish bread at home in no time at all and at a fraction of the price!
With minimal ingredients but a whole lot of flavour, these fabulous BLTs will become a regular feature on anyone's meal plan. They are simple to throw together after a busy day and are as healthy as can be. Serve with oven fries or just by themselves. Switch out the basil pesto for sundried tomato pesto or your favourite fruit chutney or tomato, barbecue or mustard sauce.
The Turkish bread is a wonderful addition to this simple meal with it's chewy crusty texture, but large hamburger buns or a ciabatta loaf would work just as well if you are unable to find any.
Pan fry your chicken fillets or take them outside and barbecue them for that extra smokey flavour.
Pesto Chicken BLTs on Turkish Bread
Ingredients
2 large chicken breast fillets, thinly sliced horizontally to form 4 thinner fillets
1 tablespoon of olive oil
1 large Turkish loaf or 4 Turkish buns
Mixed salad leaves
2 tomatoes, sliced thickly,
½ red onion, sliced
4 rashers of bacon (or 8 shortcut)
1 jar of basil pesto
Instructions
1. Heat oil in a frying pan and cook bacon until crisp and golden. Remove and set aside on baking paper to cool. Add chicken to the pan and fry for 2 to 3 minutes each side or until cooked through. (You could use a grill or barbecue instead if preferred)
2. Cut the Turkish loaf into 4 equal serves and slice horizontally to form a bun. Assemble the BLTS by firstly topping the bread with lettuce, then the tomato and onion, then the bacon and finally the chicken. Spread the inside top of the bun with pesto and serve with oven fries if desired.
https://mumslounge.com.au/lifestyle/food/pesto-chicken-blts-turkish-bread/