Beef and Pork Lasagna Recipe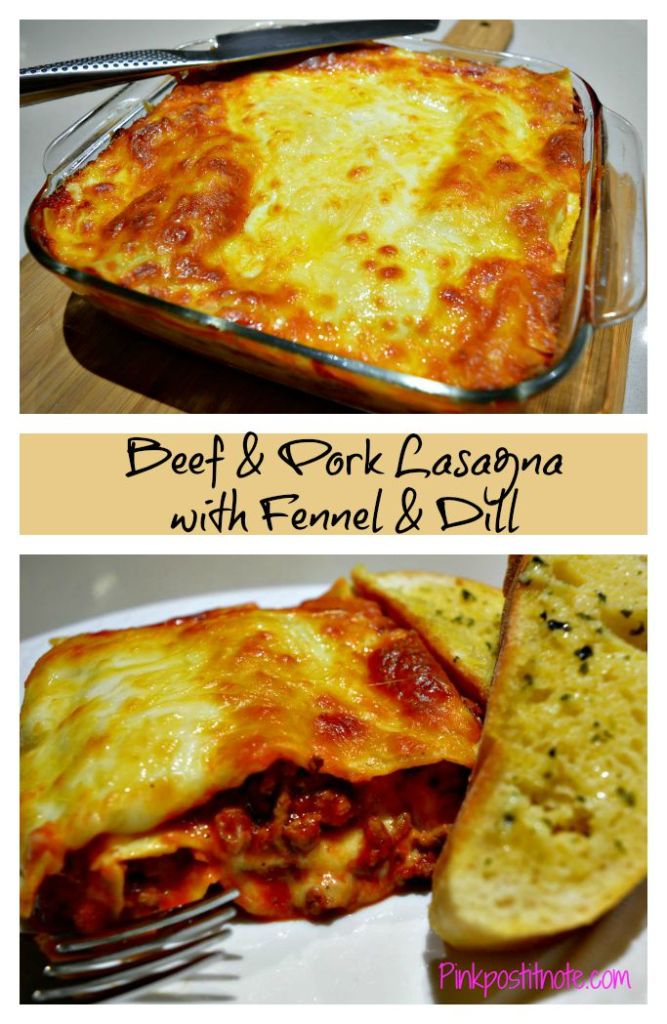 Pork and Beef Lasagna Recipe
Let's talk lasagna today. As in, really talk about it. You probably already have a lasagna recipe that you use a lot. Maybe it's great, maybe it needs tweaking. Maybe it's really not very good at all. I have made a TON of lasagna over the years. I started off using the hard un-cooked pasta and sauce in a jar, some ricotta cheese and a packet of beef mince and thought I was doing a pretty good job. Then I changed the un-cooked pasta to the fresh pasta that's available in the refrigerated section of the supermarket (usually near the garlic bread) and it made a huge difference.
Then I bought a big bottle of tomato passata (puree) and made my own sauce; added a LOT of garlic, plenty of herbs, salt and a teensy bit of sugar to counteract any bitterness. Tick. Then I changed the ricotta cheese to a bechamel sauce. Tick. Then I changed my beef mince to a beef and pork mince. Tick. Tick. Finally I added some pizzazz to my bechamel sauce by adding some dill weed and boom. Best Lasagna Ever.
I always make a "big" tray size so we can eat half for dinner and freeze the other half. And when someone you know needs a helping hand and you're looking to fill their freezer this is the perfect thing to take them. Buy a disposable foil tray with a lid and they can eat it now or freeze it for later. Just write the heating instructions on the lid. Recently a neighbour had a tragedy in their family and I popped over with this amongst some other things and pretty much forgot about it. Then about a month later when I bumped into them they said they'd had some people over for dinner and got it out of the freezer to feed them and their friends declared it the best freaking lasagna they'd ever had in their lives and demanded the recipe. That made my heart happy.
This portion is for a square 9 inch baking dish. Double the ingredients for half to eat now, half to freeze later.
Beef and Pork Lasagna Recipe
Ingredients
500g beef/pork mince
700ml tomato passatta (tomato puree)
2 cloves garlic, finely chopped
1 tsp dried oregano
1 tsp dried basil
1/4 tsp chilli flakes
1/4 tsp crushed fennel seeds
2 tbsp plain flour
2 tbsp butter
1 1/2 cups milk
1 tsp dill weed
1 tsp sugar
sea salt and cracked black pepper
small packet of fresh lasagna sheets
300g shredded tasty/mozzarella cheeses
Instructions
Pre-heat oven to 160C.
Brown the mince in a large fry pan until completely cooked. Add garlic, oregano, basil, chilli and fennel and cook for another few minutes. Season with salt and pepper. Add tomato passatta and sugar and cook until sauce is reduced and thickened.
Meanwhile make the bechamel sauce:
In a microwave safe bowl, melt butter then stir in flour until completely combined.
Add a tablespoon of milk and stir in completely.
Continue to gradually add the milk, stirring after each addition (you can safely add the balance after about 1/2 cup has been slowly combined). Return to microwave for 1 1/2 minutes, stir thoroughly, then microwave for another 1 1/2 minutes or until thickened. Add the dill weed and season with salt and pepper.
To assemble:
Layer 1/3 of the meat sauce in the bottom of a 9 inch square baking dish. Top with a layer of lasagna sheets.
Drizzle a small amount of the bechamel sauce over and sprinkle a little cheese on top.
Continue layering until you finish with a lasagna sheet followed by the rest of the bechamel sauce and cover with cheese.
Spray a sheet of aluminium foil thoroughly with vegetable oil (so it won't stick to the cheese) and bake for approximately 20 minutes. Remove foil and continue baking until golden and bubbly, approximately 20 minutes. Let sit for 10 minutes before cutting into squares.
https://mumslounge.com.au/lifestyle/food/beef-pork-lasagna/