Clangers Inspired Craft: Make Your Own Musical Instruments From Things Around the House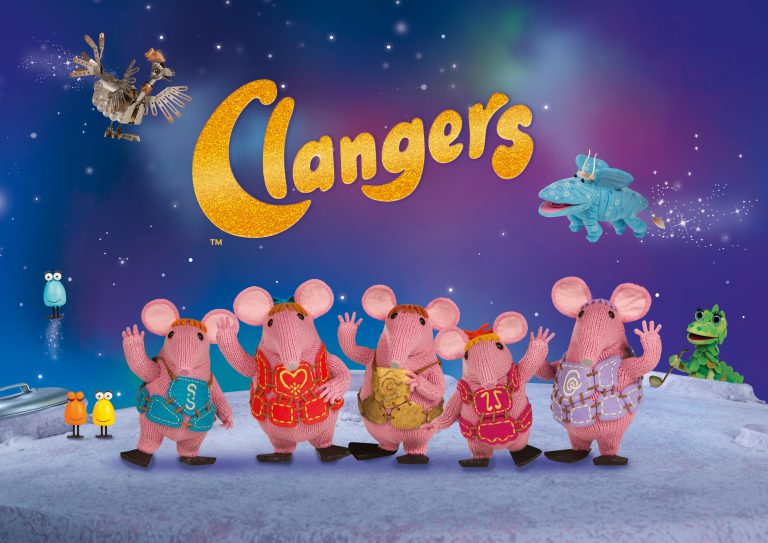 Clangers Inspired Craft: Make Your Own Musical Instruments From Things Around the House 
Sponsored post
If your little people are anything like mine, they love gathering all the art and craft supplies and letting their imaginations run wild. I always keep a well-stocked craft supplies box, but my daughter in particular never ceases to amaze me with the things she creates out of everyday items she finds around the house. Just like the Clangers from the ABC KIDS show, she has the ability to recycle bits of (what I would deem rubbish) and everyday items from around the house into something new and wonderful. For her, everything is treasure!
And just like the Clangers she adores music and experimenting with different noises and sounds, which is what led us one afternoon to seeing what musical instruments we could make from things we found laying around the house. (You've got to love a craft project that keeps the kids entertained and doesn't cost anything, right?)
Make Your Own Pan Flute with Straws
To make your own pan flute all your need is:
Drinking straws
Sticky tape
Scissors
Step One: Arrange your straws in line close together. (We used 18 straws but you can make your pan flute as small or large as you like.
Step Two: Place sticky tape around the straws to hold them together in a line.
Step Three: Cutting through two straws at a time, create a step effect with the straws so that they get gradually shorter. (See image below). Adults may want to help smaller children with this step.
Step Four: Blow through the ends of the straw to make whistling sound!
Make Your Own Guitar
To make a box guitar all you need is:
An empty box i.e. cereal box, tissue box
Scissors
5-8 elastic bands
Step One: Cut out a circle in the centre of the front of the box (see image below). It is best to get an adult to do this part for smaller children.
Step Two: Sticky tape the ends of the box closed.
Step Three: Stretch elastic bands around the box and slide them down so that they sit above the hole. Space elastic bands around 1-2 cm apart.
Step Four: Strum on the elastic bands to make music!
Make Your Own Maracas
The singing Eggbots from the Clangers were our inspiration for our own DIY maracas! I already had a stash of plastic craft eggs stored in the cupboard, but they can be picked up from craft stores or $2 shops very cheaply if you don't already have them laying around after Easter.
To make the maracas all you need is:
Plastic craft eggs
Plastic spoons
Sticky tape
A selection of fillings for the eggs e.g. uncooked rice, dried pasta, small stones etc. Experiment with different fillings to make different sounds.
Step One: Fill your egg ¼ full with your chosen filling. (Our eggs had small holes at the top and bottom that we covered first with sticky tape to seal.
Step Two: Close the egg and seal the join with sticky tape.
Step Three: Attach 2 spoons to the side of the egg to form a handle.
Step Four: Shake your maracas to make music!
Next on our list of Clangers-inspired music-making creations will be a wind chime! We just have to dig around the house, and possibly Dad's garage for some suitable metal objects. (So far we have a teaspoon, an old key and the metal hanger!)
Clangers airs weekdays on ABC KIDS at 4.10pm 
Clangers is a gorgeous stop-motion animated series (suitable for pre-schoolers) about a family of inventive, pink, mouse-shaped creatures who live on a small blue planet in space not too far from our world.
Based on a classic remake of the original Clangers series from 1969, the new Clangers series has already achieved high critical acclaim in the UK, winning a Children's British Academy of Film and Television Arts (BAFTA) award in the Preschool animation category.
The Clangers series launched in Australia on February 1, and is already amassing a large following of little fans and their parents. Unlike some other TV shows for pre-schoolers, the rich musical soundtrack and Swanee whistles the characters talk to one another in, make for a calming, therapeutic viewing experience.
The Clangers' philosophy of re-inventing and recycling is an essential part of the Clangers ideology, and encourages creativity and appreciation for the things we have. I personally love how almost every 10 minute episode is punctuated by the narrator (Monty Python's Michael Palin) inevitably uttering the words 'oh dear' as the Clangers face some kind of crisis or challenge. Each problem is dealt with calmly and often solved either by making something wonderful from objects they have laying around, or by working together or with others to find a solution.
It really is a gorgeous, gentle and quietly entertaining show. If you haven't discovered it yet, we highly recommend checking it out.
Looking for more creative Clanger activities to do with your pre-schooler? You can download these activity pages for FREE.
Click to download your favourite activity sheets.
Download COLOURING ACTIVITY SMALL & TINY
Download COLOURING ACTIVITY SOUP DRAGONS
Download MAKING MOON CRATERS
Download STONE PETS ACTIVITY 
For more Clangers fun visit the website www.clangers.com
Keep an eye out over the coming weeks. We'll be sharing lots more Clanger-tastic craft projects you can make with your child from things you have laying around at home! In the meantime, have fun with your DIY musical instruments!