Nachos with Salad Recipe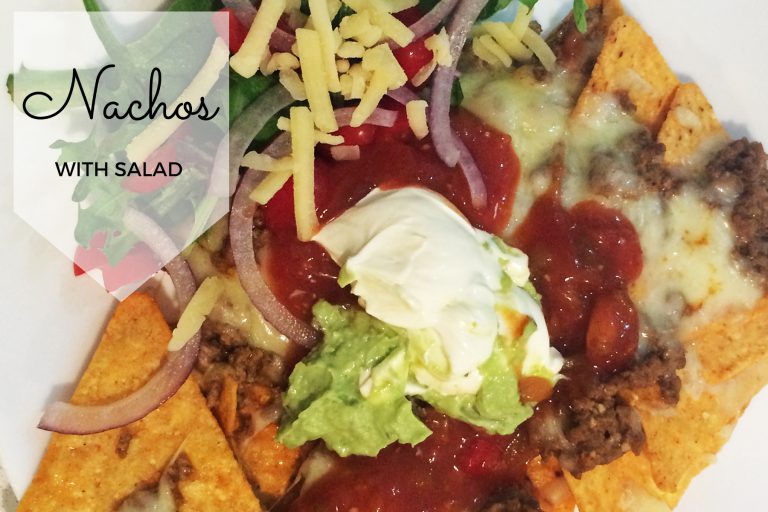 Nachos with Salad Recipe
Serve a hot platter of nachos with a lovely big bowl of fresh salad and watch the family come a-runnin'! This meal is always a big hit with my family, and they love serving themselves with all the condiments that go with nachos – guacamole, sour cream and salsa.
You can make your own guacamole and tomato salsa if you like. But I find it time-saving and easier to just swing by the cold foods section of the supermarket and grab a guacamole dip and dig out that unopened sachet of salsa from the last time we had tacos (it always ends up forgotten at our house!).
I like to use the corn chips that are found in the taco section of the supermarket, rather than the Doritos-type ones in the chip section. I find that they are thicker and don't go as soggy as the chips do.
Ingredients
500gms beef mince
1 packet of taco seasoning
1 packet of tortilla corn chips
1 ½ cups of grated tasty cheese
1 jar of tomato salsa
1 small container of sour cream
1 cup of pre-packaged guacamole dip (optional)
Mixed salad leaves
Sliced red onion
Half a punnet of cherry tomatoes, halved
Instructions
1. Prepare taco mince as per directions on the seasoning packet – brown the mince, mix the seasoning with water, stir to combine and simmer.
2. Preheat oven to 200°C. Arrange tortilla corn chips on an ovenproof platter or lasagne-sized casserole dish. Top with taco mince and 1 cup of the grated tasty cheese. Bake in oven until cheese melts, about 5 to 8 minutes.
3. Prepare your salad while the cheese melts by mixing all salad ingredients on a separate platter. Serve salad and nachos with lots of salsa, sour cream and guacamole.
https://mumslounge.com.au/lifestyle/food/nachos-with-salad/
Notes:
Add red kidney beans and corn kernels to the mince mixture for an extra veggie hit.