Tips for Getting Your Baby to Sleep (PLUS GIVEAWAY)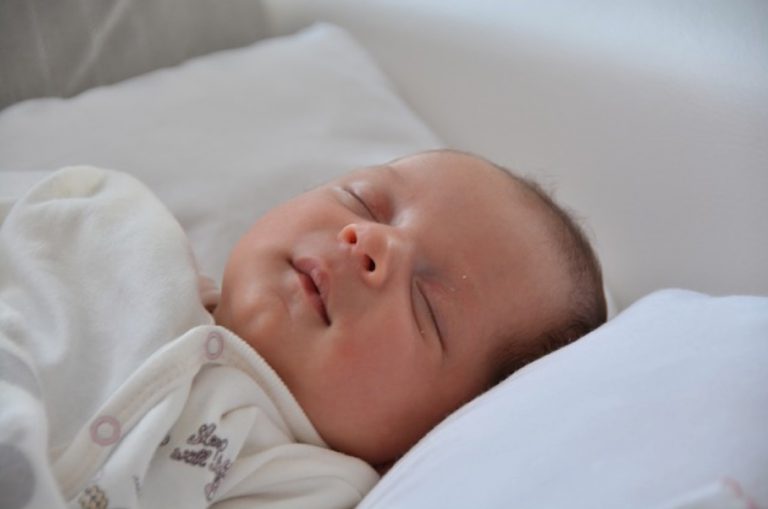 Tips for Getting Your Baby to Sleep (PLUS PLUM POD GIVEAWAY)
Sponsored post
Getting your little bundle of joy to sleep long enough to get some decent shut-eye yourself is a problem many new parents face. Yes they are adorable, but they can also be utterly exhausting. Fortunately, there are a few sneaky little techniques you can employ to help your little darling on their way to Slumberville.
Establish a Routine
We know, you hear it over and over, but establishing a routine really is one of the best things you can do for your baby (and yourself) during the early weeks. Don't make the rooky mistake of thinking that if you don't allow your baby to nap during the day they'll sleep better at night. An overtired baby is almost impossible to get to sleep. Establish regular nap times during the day and have a set bedtime in the evening also.
Bathtime
Bathing your baby before a feed and bedtime is a great activity to incorporate into the bedtime routine. The warm water, and the skin-to-skin contact can help relax your baby and wind them down after a busy day
Use Light and Darkness to Your Advantage 
Whilst your baby doesn't know the difference between night and day, you can help them recognise when it is time to sleep or time to play using light cues. Darkness triggers the human brain to release melatonin – a key sleep hormone. Use block out blinds or thick curtains to create darkness in your child's bedroom during naptimes and ensure that your house is well lit, or get outside in the sunlight during waking times.
Allow Your Baby Time to Self Settle
We know it's hard, but resist the urge to jump up to check your baby as soon as you hear them whimper or gurgle. Waiting a few moments gives your baby the chance to learn to settle back to sleep on their own. On the other hand, we don't advocate letting him/her being left to work up to the meltdown screaming stage though either. But if your baby isn't distressed, wait a few moments and give them the opportunity to self-settle.
Avoid Eye Contact
We know you've already lost hours just staring into your sweet baby's eyes, but trust us, if you'd prefer to go back to bed and get some more sleep, don't make eye contact with them in the wee hours. We know it's hard, but staring adoringly into your baby's peepers will stimulate him/her and engage their attention (neither of which are preferable at 3am!)
Swaddling Can Help Babies Settle
Not only does swaddling your baby help recreate the snug feeling they were used to in your womb, it is also recommended by SIDS and Kids as a useful method for ensuring that they sleep on their back, rather than their side or their tummy. You can check the Sids and Kids website for recommendations on how to correctly swaddle your baby with a wrap, or opt for a specially designed sleep garment such as the Plum POD.
Plum's Bamboo Pod combines the unique benefits of both stretch cotton and muslin fabrics to provide baby with a snug fit over the arms and generous space for the legs and hips.
Plum's top panel is made from stretch Cotton Bamboo which secures baby's arms to prevent self-waking from the startle reflex.
The Plum Pod's soft, breathable Bamboo Muslin gives extra room for baby's natural leg and hip movement, as recommended by The International Hip Dysplasia Institute.
Plum Pod is designed for use until baby shows signs of rolling  at approximately 3 months, then baby is then ready to transition to Plum Sleep bags.
Bamboo feels silky soft, feathery light, and deliciously cool on your baby's skin, with unbeatable moisture absorption and evaporation abilities. Bamboo fabric offers ventilation in warm weather. Bamboo is a grass, not a tree, it grows quickly and has no need for harmful pesticides.
The Plum Pod (RRP for a 1.0 tog is $59.95) is available from David Jones, Baby Bunting, Toys R Us and online www.plumcollections.com.au
Plum believes in giving back to the community and is partners with SIDS and Kids. SIDS and Kids is dedicated to saving the lives of babies and children during pregnancy, birth, infancy and childhood and supporting bereaved families.  A percentage of Plum sales support SIDS and Kids Safe Sleeping educational campaign.
Plum POD Giveaway
We have 3 x Plum POD's to giveaway! To enter simply complete the entry form below. Good luck!