Pesto Chicken Gnocchi Recipe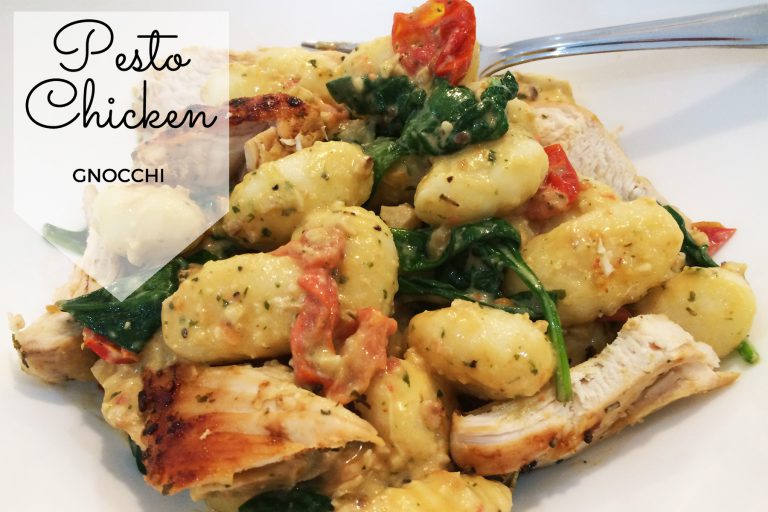 Pesto Chicken Gnocchi Recipe
If you're after an easy gourmet meal to throw together in twenty minutes at the end of a busy day, then this pesto chicken gnocchi recipe is for you!
Fluffy little pillows of potato gnocchi, smothered in a creamy pesto sauce with baby spinach, cherry tomatoes and chicken – YUM!
Here is what you will need to throw this simple dish together.
A packet of gnocchi – don't buy the dearer refrigerated stuff, head to the pasta aisle. You get more gnocchi for cheaper and it's exactly the same. A tub of pesto dip, a punnet of cherry tomatoes, some cream and a packet of baby spinach. Plus you'll need two cups of cooked chicken. I sprinkled two chicken breast fillets with Tuscan Seasoning and grilled them, but you could easily grab a barbecue chicken from the supermarket deli and pull the meat off that instead.
To make the sauce, you oil and fry the tomatoes for a couple of minutes, then add the dip and cream. Reduce it slightly, then add the cooked gnocchi, the chicken and the baby spinach.
Then hook in! That's it! That's all there is to it. Simple, fresh and tasty. I'll be making this again and again, and I hope you enjoy it too.
Ingredients
500gm packet of potato gnocchi
250gm punnet of cherry tomatoes, halved
Cooking oil spray
150gm tub Chunky Rocket with Cashew and Parmesan dip
1/3 cup thickened cream
2 cups cooked chicken, shredded and chopped (two chicken breast fillets sprinkled with Tuscan Seasoning works well here, or you could use a barbecue chicken)
100gms baby spinach
Instructions
Cook gnocchi as per packet directions and drain.
Meanwhile, heat a large frying pan over moderate heat. Spray tomatoes with oil and cook, stirring, for 3 minutes or until heated through. Add pesto dip and cream and bring to the boil, stirring. Reduce heat and simmer for 3 minutes or until the sauce reduces slightly.
Add gnocchi and chicken to the sauce and stir to combine. Cook for another 3 minutes or until heated through. Remove from heat and stir through spinach. Serve.
https://mumslounge.com.au/lifestyle/food/pesto-chicken-gnocchi-recipe/