Cheese and Bacon Mini Quiches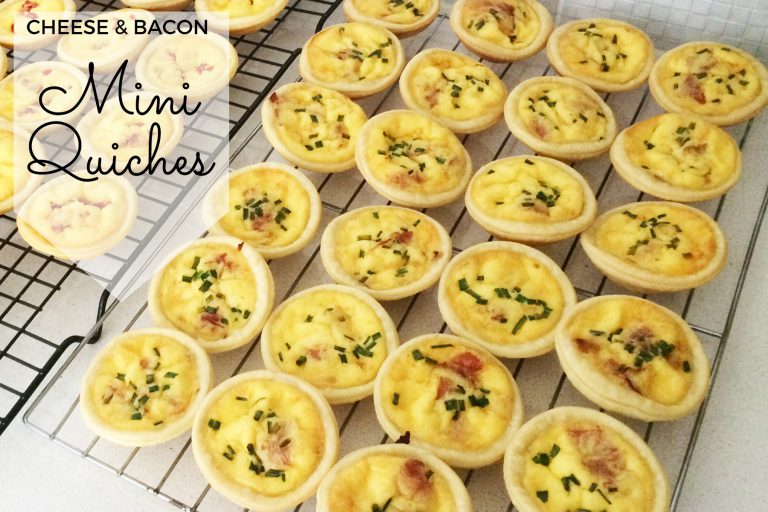 Cheese and Bacon Mini Quiches
I've been making these fantastic mini quiches for years. Everyone loves them so much that it is my most requested 'bring a plate" recipe. I am always asked to bring them to barbecues, parties and Christmas celebrations. Once I made 96 of them for one small family event and there were no leftovers!
They are super simple to make and hardly take any time at all. Well, unless you plan on making almost a hundred of them. That took a while, I have to say.
You need mini tart pans for this recipe, and you can buy them at major supermarkets quite cheaply. I use the rounded bottomed ones like this one as they are easier to form the bases. Just use a 7cm cookie cutter to press out circles of thawed shortcrust pastry and place over the indentations in the pan, then press into place. Couldn't be easier!
Then simply pop some fried bacon pieces into the bottom of each quiche with some grated cheese, top with the cream and egg mixture and sprinkle the tops with some chopped chives. Cook in the oven for fifteen minutes and enjoy warm or cold!
You can also switch up the flavours if you like – I have made smoked chicken, feta and asparagus mini quiches, salami and roasted capsicum mini quiches and spinach and feta mini quiches in the past. The egg and cream mixture remains the same, just change the fillings to suit.
Cheese and Bacon Mini Quiches
Ingredients
spray oil
2 rashers bacon, finely chopped
1 cup grated tasty cheese
4 eggs
½ cup (120ml) cream
salt and pepper
1 tablespoon chopped chives
4 sheets ready rolled short crust pastry, thawed
Instructions
Preheat oven to 170°C. Spray a non-stick frying pan with a little oil. Add bacon and cook for 4-5 minutes over medium heat until golden. Remove and drain on paper towel.
Place eggs, cream, salt, pepper and chives in a bowl, and whisk until combined.
Using a 7cm biscuit cutter, cut out 24 rounds from pastry sheets. Press each round into a lightly greased mini tart pan.
Sprinkle some bacon and cheese into each pastry case and pour in about 1 1/2 tablespoons of egg mixture, taking care not to overfill.
Bake for 15 minutes or until cooked through and golden. Serve warm or cold.
Notes
You can reheat these mini quiches by placing them on an oven tray and popping them into an oven for ten minutes or so.
https://mumslounge.com.au/lifestyle/food/cheese-bacon-mini-quiches/