Pesto Salmon Tray Bake Recipe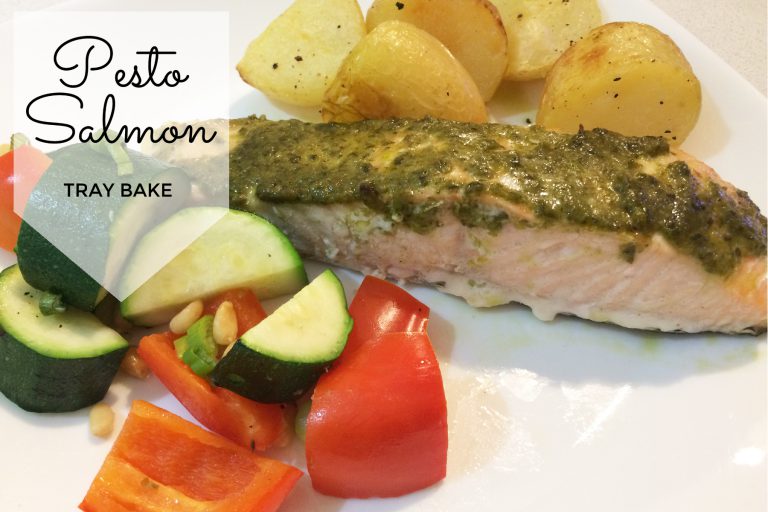 Pesto Salmon Tray Bake Recipe
As soon as I saw this recipe for pesto salmon tray bake over at the BBC's Good Food website I just knew I'd have to try it at home. My family absolutely loved it! It was so easy to throw together as well, which is why I love tray bakes so much.
Here is what you need to get this meal on your table in about 45 minutes.
Fresh salmon fillets, baby potatoes, capsicum, zucchini, a spring onion, pine nuts, basil pesto, olive oil, lemon juice and salt and pepper. You can use any roastable veggies that you like though — think mushrooms, cherry tomatoes, corn cobs, carrots, parsnips, red onions etc. Just keep in mind the cooking time and perhaps pop them in with the potatoes when cooking.
Cut the potatoes in half and par boil them for ten minutes. Then place on a baking tray, drizzle with olive oil and season with salt and pepper. Roast in the oven for twenty minutes.
Meanwhile, chop up the veggies. Move the potatoes to the side and place the vegetables down the other side of the same baking tray with some pine nuts and chopped spring onion. 
If you have a big enough baking tray you could then put the salmon on the same tray but mine didn't fit so I grabbed a second baking tray from the cupboard. Drizzle with lemon juice and top with pesto. Two family members didn't want theirs covered in pesto. That's fine — their loss!
Now pop everything in the oven to bake for another 15 minutes.
This was such a simple but tasty meal to put together, and easily customisable for those that don't like the flavour of pesto. Or even if they don't like salmon at all — fry up some white fish or a sausage or two for those that would prefer a different meat. Too easy!
Pesto Salmon Tray Bake Recipe
Ingredients
500g baby new potatoes, halved
1 tsp olive oil
2 large zucchinis cut into small chunks
1 capsicum, cut into small chunks
1 spring onion, finely sliced
25g pine nuts
3-4 salmon fillets
juice 1/2 lemon
1 1/2 - 2 tbsp pesto
Instructions
1. Boil the potatoes for 10 mins until tender, then drain.
2. Heat oven to 200C/180C fan forced. Toss the potatoes in the oil, then transfer to a baking tray. Roast for 20 mins.
3. Push the potatoes to one side and put the zucchini, capsicum, spring onion and pine nuts down the middle of the tray. Put the salmon on the other side if there is enough room (if not, use a second tray). Squeeze lemon juice over the fillets and the vegetables (not including the potatoes). Season everything with pepper. Spread each of the salmon fillets with pesto and return the tray to the oven for 12-15 mins until everything is cooked through. Serve immediately.
https://mumslounge.com.au/lifestyle/food/pesto-salmon-tray-bake-recipe/